Details

Published: Monday, 14 February 2022 10:03
Written by Greg Letts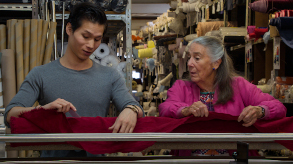 Now and again you get a movie that looks just OK in the trailer, but turns out to be so much better when viewed in full.  A Stitch in Time by Writer and Director Sasha Hadden is one such movie.

A Stitch in Time doesn't have lots of flashy clips that make for a great two minute trailer, but what it does have is a touching story filled with authentic characters, told exceptionally well.

The story revolves around Liebe (Maggie Blinco), an elderly housewife whose partner Duncan (Glenn Shorrock of Little River Band fame) loses his job singing at the RSL. Duncan is a self-centered and arrogant man, bitter about his lack of success and blaming other people for his failure to find an audience for his music.

In an attempt to raise money to finally record an album, Duncan reconnects with Justin, his old band-mate, and Christine, Justin's wife...