Details

Category: Arts & Culture
Published: Thursday, 17 November 2016 07:42
Written by Nita Teoh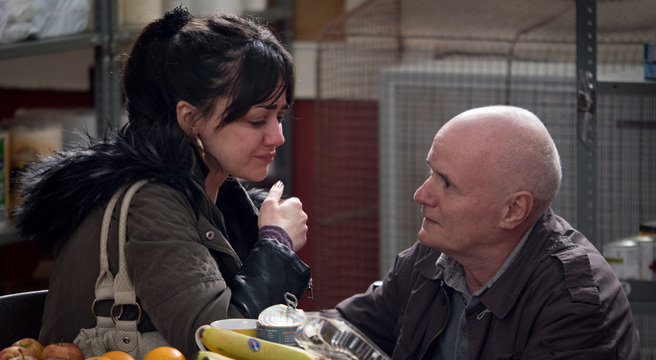 Katie (Hayley Squires) & Daniel (Dave Jones)
I Daniel Blake

Winner of the prestigious Palme d'Or, the much awaited movie "I Daniel Blake" opens today at Luna Palace cinemas in Perth.
Acclaimed British film director Ken Loach (of Jimmy's Hall, The Angels' Share, The Wind That Shakes the Barley) and writer Paul Laverty have struck a chord as audiences around the world have resonated strongly with the movie in its fight for the underdog.
The story revolves around the main character Daniel Blake, a carpenter forced to stop work due to a heart condition, who finds himself thrown into the world of the social services system to seek assistance.
As the weeks go by, Daniel is dumbfounded as he is confronted by the endless rules and regulations of the system, facing obstacles at every turn with a social services organisation that is meant to help him. Despite endeavours to explain his serious health predicament, his needs and hardship fall to deaf ears, as he is forced to continue to look for work to qualify for job seekers support.
A chance encounter brings him into contact with single Mum Katie and her two kids and as their friendship blossoms they provide emotional support to each other as they confront multiple challenges in their life.
I Daniel Blake is brutally frank in its portrayal of systemic issues and problems of bureaucratic organisations and its employees and the resulting frustrations faced by its clients.
It is a story that resonates strongly with movie goers around the world, and is a wakeup call for us to go back to basics to have respect and empathy for the very individuals that we are meant to be helping in social service organisations, who oftentimes feel harshly treated as just numbers in the system.
I Daniel Blake conveys some important messages all the more so given the current state of play in our world as Government organisations continue to be challenged to regulate and compete with businesses within a fast paced, innovative, paradigm of disruptive economies.
In keeping with the theme of the movie, Luna Palace has partnered with Foodbank WA to run a food drive at Cinema Paradiso in James Street, Northbridge and Luna on SX, in Essex Street Fremantle, for the opening week of the movie. All donated food will be distributed to adults and children in need as prepared meals, food hampers and emergency parcels.
The organisers are calling on people to drop off any non-perishable food and grocery donations at food bins at the above two Luna Palace locations during the opening weekend of I, Daniel Blake from the 17 to 20th November.
I Daniel Blake opens at Luna on 17 November.
If you enjoyed this article, please share it!
Find out about the hottest events around Perth, by following us at @PerthWalkabout