Details

Category: Arts & Culture
Published: Friday, 06 February 2015 12:47
Written by Nita Teoh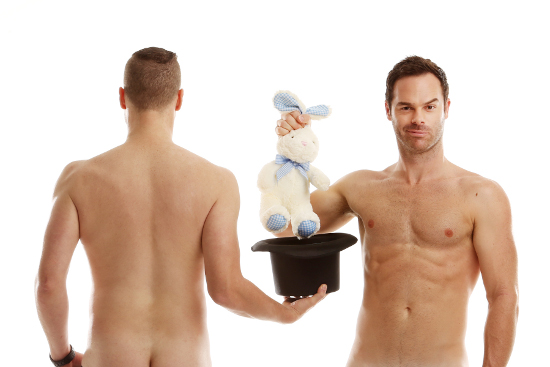 We arrived at Regal Theatre in Subiaco on a Thursday evening to watch The Naked Magicians as part of Fringe World Perth and were greeted by a packed house. One thing that struck me about the audience was the high number of young women who were in attendance and although they weren't quite screaming, they were definitely very excited about the upcoming show starring the duo of Christopher Wayne and Mike Tyler. I gathered that it was the naked bit of the show that struck a chord with the women in the audience.
And so it did. I didn't really know what to expect from the performance, having only briefly scanned Chris and Mike's bio's on their website. Christopher Wayne has featured on Channel 10's Toasted TV and Mike Tyler is an ex banker who has switched to corporate entertainment, quite an interesting sea change that has paid dividends.
They are a hilarious team, and as they were welcomed to Perth with the screams of hundreds of eager women, they quickly got into gear – although as they mentioned, they would soon be getting out of their gear to the approval of their patrons! The duo work well on stage together, with a teasing, friendly rivalry and banter, and maintain high audience participation with ease.
If you offend easily, this show is not for you. It will make you laugh, make you groan, possibly make you blush, and if you are a bit of an extrovert you could end up on stage as an assistant to the lads. It has it perks depending on how you see it!
The Naked Magicians are fun loving and cheeky boys who have plenty of magic tricks up their sleeve and in a few other places as well – just where you'll have to wait and see for yourself. In addition to the well executed magic tricks, their stage performance was dirty, sexy and in your face (especially if you are sitting in the front row!) - the night went by quickly as they kept things moving at a brisk pace and kept the audience well entertained.
As first timers to the Perth Fringe Festival – Chris and Mike have done well to draw the big crowds, especially for the ladies, and they may well be a regular visitor to our annual Fringe in Perth. Prior to arriving in Perth, they were touring regional locations around WA.
They are a slick and cheeky duo with a somewhat unique twist to their magic…their style is nothing quite like what I've seen before and they certainly bare it all with their mystic, fun loving nature and craziness.
Before the end of the night, you'll also find out what that magic red envelope was all about that you got handed at the start of the evening.
Well done to the naked magicians…get it off, they certainly did and more with their unique style of magic.

Catch The Naked Magicians as part of Perth World Fringe – they are on tonight and tomorrow night at the Regal Theatre in Subiaco, before they and their clothes disappear to take their tour to South Australia for the next month.
If you enjoyed this article, please share it!


Nita Teoh follows her feet to find the latest happenings in Perth.
To get the insider's perspective on upcoming events at Perth, follow us @PerthWalkabout