Details

Category: Arts & Culture
Published: Monday, 11 February 2019 11:24
Written by Lee-Ann Khoh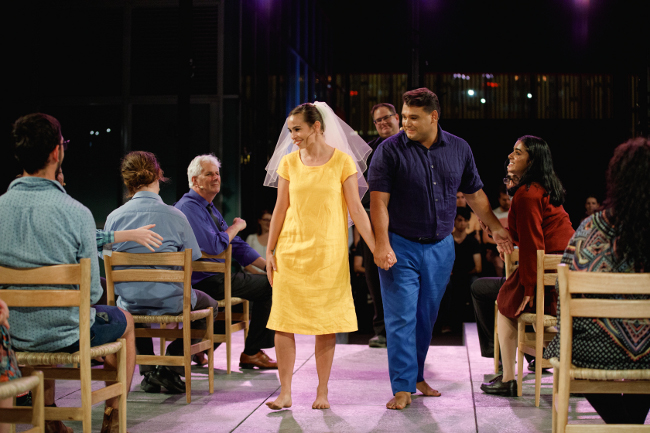 Abbie-lee Lewis (as Emily), Ian Michael (as Stage Manager / George), Our Town
Photo Credit: Daniel J Grant

Thornton Wilder's Our Town is a play that knows it's a play. And Black Swan State Theatre Company's production of this Pulitzer Prize-winning play knows it's being performed in Australia in 2019, not the United States in 1938 (where it made its debut).
Our Town is set in the fictional small town of Grover's Corners, New Hampshire in the early 20th century. The first act takes place in 1901 and introduces us to various townsfolk, including the neighbouring Gibbs and Webb families. The second act jumps forward three years, where George Gibbs and Emily Webb, who have recently finished high school, are getting married. The third act, set nine years after the second, focuses on Emily after she dies giving birth to her and George's second child.
But as I mentioned earlier, Our Town knows it's not really in New Hampshire. When the play begins, the first character we meet is the Stage Manager (Ian Michael, who also plays George) who sets the scene and narrates the story, breaking the fourth wall in the process. The three main actors – Michael, Abbie-lee Lewis (who plays Emily) and Shari Sebbens (Julia Gibbs) – are Aboriginal, while the rest of the culturally diverse cast is made up of members of the WA community, some of whom have never been on stage before. Everyone uses their own accent. There are few props, with the cast miming most of their actions.
I attended the preview night, which happened to be a beautiful summer's evening for a performance in the courtyard of the State Theatre Centre – warm but not stifling. Headphones were provided on each seat, which allowed us to hear the mic'd up actors, as well as the accompanying sound effects that helped recreate the atmosphere of the town.
It didn't matter that no one was putting on an American accent or dressing for the era in which the play is supposed to be set, because Grover's Corners simply represents everyday people and human experiences. Black Swan State Theatre Company's interpretation of Our Town transforms it into an affectionate tribute to contemporary Perth and its people.
Our Town, presented by Black Swan State Theatre Company as part of Perth Festival, is on at the State Theatre Centre Courtyard until February 23.

If you enjoyed this article, please share it!



To find out about the hottest events around Perth, follow us at @PerthWalkabout