Details

Category: Markets
Published: Tuesday, 08 April 2014 13:50
Written by Nita Teoh
On a cool summers night, we decided to head down to the Maylands Twilights Markets at The Rise. The markets are a new initiative which kicked off on the Australia Day weekend, and are a popular Saturday night event amongst locals and visitors from other suburbs.
There are plenty of food and drink offerings among the food stalls lining both sides of the grassy amphitheatre. Marcelitas' Empanadas from the Twilight Hawker markets in the CBD were there and busy as usual, and The Amaizing Stall with its twist on Venezuelan and Australian fusion food was doing a great trade with their offerings of arepa bread, made from maize.
Some of their offerings from The Amaizing Stall include their vegetarian options of zucchini, eggplant and mushroom and popular choices such as their Pink Panther sausage, their Rancher Chicken King with chicken, avocado and tomato, and their Aussie with steak, beetroot, egg, onions.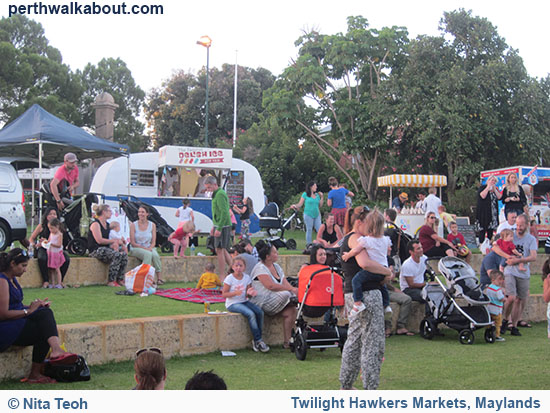 The Thai food stall Bangkok Jump Street tempted passerbys with their pad thai noodles, and coconut pork skewers, as the stall holders tended to the skewers over the hot bbq's.
On the dessert front, there were sweet crepes, along with icecreams, confectionery and other cool drinks, macaroons and the Latte Lady van for a caffeine shot.
There was some live music on offer, as families enjoyed the summer event picnicking on the grassed area at The Rise. It's also dog friendly which means you can bring your pooch along to enjoy the evening.
All in all, the Maylands Hawkers markets has kicked off with a bang and thumbs up to the Lions Club who have initiated this well run event. The Maylands markets runs through till April, so enjoy the balmy summer evenings, and head down to enjoy the festivities at your local markets with some tasty food.
The Rise is the local recreational centre close to the corner of Guildford Road and Eighth Avenue.
If catching the train, get off at the Maylands Train Station, and walk down Eighth Avenue along the café strip till you reach the traffic lights. The Rise is just across the road behind the old public library building. Just look for the crowd of people having a good time.

If you enjoyed this article, please share it!
Nita Teoh pens her passion for Perth at Perth Walkabout. She enjoys exploring by foot and letting readers know about the hidden gems of Perth.
For more insider tips on events in Perth, follow us @PerthWalkabout