Details

Category: Sports & Recreation
Last Updated: Wednesday, 30 March 2011 09:35
Published: Thursday, 10 February 2011 18:24
Written by Vicki Sly
Australia is a nation where learning to swim often comes before learning to walk.
It seems to makes sense when most of the population lives on the coast and backyard swimming pools are a dime a dozen.
If you don't have ready access to the beach or your very own spa or pool in the backyard, then why not head to one of Perth's aquatic centres that are spread around the city?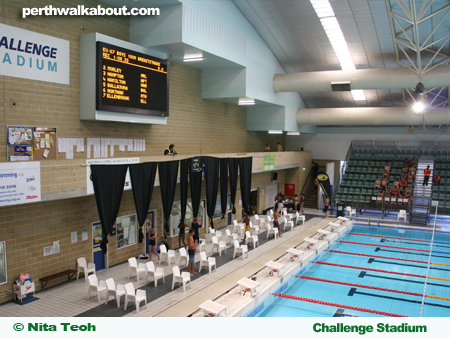 Perth's aquatic centres offer a huge number of services from baby swimming lessons, elite training squads and water exercise classes, to spas and saunas, family fun slides, cafes and swim-in movies nights. Most also have a gymnasium attached so the exercise options are endless.
There are too many centres to name in one article so I have chosen to highlight a few of the key centres around Perth. There is bound to be one in your local area so make sure to check the phone book or call your local council to find out more details.
Bayswater Waves

Corner Broun Avenue and Priestley Street, Embleton, phone 9276 6538. Bayswater Waves is close to my heart as this is where my girls first learnt to swim long before they could walk.  Its claim to fame is that it has Western Australia's only wave pool, along with a huge twisting slide that the "bigger kids" in the family love to tackle. 

For the more serious of swimmers, there are six heated pools and loads of classes. There's also a health club and crèche, which is great for parents taking some time out to exercise.  Bayswater Waves was also the 2010 WA Fitness Business of the Year winner so well worth a visit.
Beatty Park Leisure Centre

220 Vincent Street, North Perth, phone 9273 6080.  This fabulous leisure centre is located just 3km from the heart of Perth and was built in 1962 for the British Empire and Commonwealth Games. 

Needless to say it has been upgraded since then and today remains one of Perth's most popular aquatic centres. Apart from the large outdoor and indoor pools, both heated, the centre also boasts dive pools, water slides and a water playground.
Bold Park Aquatic Centre

The Boulevard (opposite Wembley Golf Course), City Beach, phone 9385 8767.  This aquatic centre is nestled in native bushland near the ocean in City Beach and is an old favourite with families. The 50 metre outdoor pool is heated and open all year round. Make a day of it and visit the botanical gardens next door.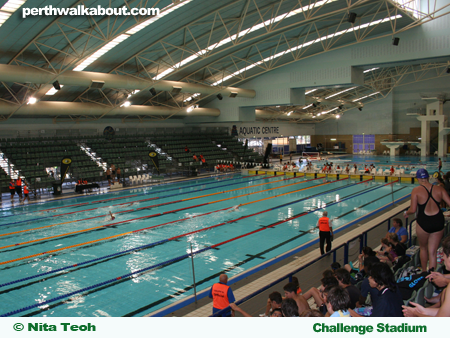 Challenge Stadium

100 Stephenson Avenue, Mt Claremont, phone: 9441-8222. This is THE venue in Perth for competition swimming and high performance swimmers, although fitness classes and recreational fun are also on the cards.

There are loads of pools to choose from, including a specific water polo pool. To avoid the crowds you can check out lane availability in advance on the centre's website.
VenuesWest Arena Joondalup

Kennedya Drive, Joondalup, phone 1300-722-682.  This centre plays host to all kinds of sports and special events, including concerts, so I can safely say it has more than a swimming pool on offer. Ever heard of Flippa Ball? That's kid's water polo and open to children from the ages of six through to 14. What a great way for your kids to improve their swimming skills.
Other Perth Walkabout articles

Surf Lifesavers are not just Bronzed Bods in Budgie Smugglers

Sand, Surf and Sea at Scarborough Beach

Glorious Sun, Surf and Food at Cottesloe Beach