Details

Category: Sports & Recreation
Last Updated: Friday, 11 March 2011 10:27
Published: Monday, 14 February 2011 10:17
Written by Vicki Sly

Visitors to Australia have usually come across surfing of some degree in their own country or in their travels, but surf lifesaving may be a whole new ball game.

Surf lifesaving is not just about bronzed bods in budgie smugglers paddling about in the surf but is an Australian institution which began over one hundred years ago in 1906, some nine years before surfing was introduced to our shores from Hawaii.

It came about as a response to try and help less proficient swimmers in the surf and stop people from drowning and although today it includes all types of activities and competitions, keeping people safe on the beach is still at the core.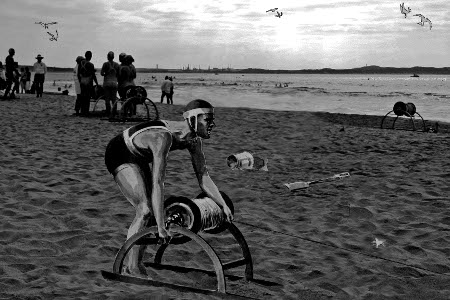 Photo Credit: Flickr/Paullivo44



Interestingly, according to the Federal Government website, there was little need for surf lifesavers before this time because it was illegal to swim in the day before 1902 and men and women could only 'bathe' in the early morning or the late evening, and never at the same time.

Australian's have come a long way since this age and today the beach is a big part of our identity and keeping people safe in the sea is a priority.

Visitors to a beach like Scarborough in Perth will see flags set up at each end of a stretch of beach. This indicates it is safe to swim and surf between these flags and that the area is being patrolled by surf lifesavers who typically wear the colours yellow and red; those on patrol wearing red and yellow cloth caps on their heads. Just a note that to move outside of this area may be hazardous!

The flags on Scarborough Beach are patrolled by one of Perth's biggest surf lifesaving clubs on the weekends and on weekdays by the City of Stirling's paid lifeguards. Surf lifesavers and lifeguards may appear one and the same but the former are volunteers while the latter are in a paid profession.

Who are the Surf Lifesavers?

There are over 150,000 surf lifesavers in Australia made up of anyone in the general population who loves the beach and has a desire to keep fit, have fun and learn some safety techniques along the way.

Surf lifesavers may be competitive ironmen and ironwomen, volunteers or rescue teams who are reported to make between 8000 and 10,000 rescues each year.

Lifesaving begins from Nippers (5-13 year olds) who learn all about surf awareness and safety skills so that they can "read" the surf and keep themselves safe. Other skills include surfing, paddling, swimming and sand running. A great way to keep fit!

From Nippers, children move on to Juniors (13-15 year olds) where they learn more rescue techniques, and then it is on to Bronze Medallion swimming. To obtain this certificate you need to be over the age of 15 and be proficient in all aspects of surf awareness, water survival, beach patrol and rescue techniques and emergency care.

The easiest way to become a surf lifesaver is to join the local club in your area or at a beach that you or your children like to frequent. More details are available from Surf Life Saving WA on 9243 9444.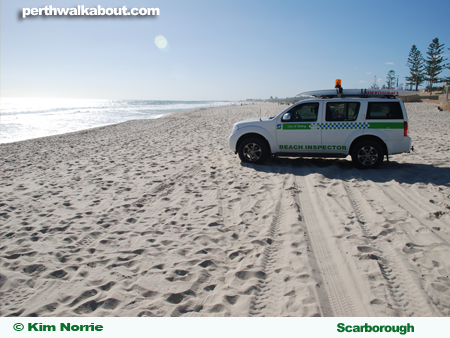 Perth beaches that have their very own surf lifesaving clubs and that are patrolled on weekends and busy public holidays include: City Beach, Coogee Beach, Cottesloe, Floreat, Leighton, Mindarie, Mullaloo, North Cottesloe, Scarborough, Secret Harbour, Sorrento, Swanbourne, Trigg and Yanchep Lagoon.

Other Perth Walkabout Articles

Paradise on your Doorstep - Perth Beaches

Sand, Surf and Sea at Scarborough Beach

Glorious Sun, Surf and Food at Cottesloe Beach