Details

Category: Arts & Culture
Last Updated: Sunday, 19 February 2012 11:32
Published: Wednesday, 10 November 2010 09:56
Written by Vicki Sly

Lovers of art living in or travelling to Perth are spoilt for choice. This is Part Two of a Guide to Perth Art Galleries as there are just too many wonderful places to pack into one article.

On doing this research I was astounded by the number of galleries to be found around Perth and open to the general public, many with free admission.

Next time you are looking for something to do on the weekend whether it's raining or just too hot, why not head to a gallery?

Heathcote Museum & Gallery

Swan House, 58-60 Duncraig Road, Applecross, phone 9364 5666. Open Tuesday - Friday 10.00am – 3.00pm, Saturday and Sunday 11.00am – 3.00pm. This old mental hospital now houses a diverse range of contemporary art.

John Curtin Gallery

Curtin University, Kent Street, Bentley, phone 9266 4155. Open Monday - Friday 12 noon – 5.00pm. Based at Curtin University, John Curtin Gallery is known as one of Western Australia's major public galleries with local, national and international works on display.





Kidogo Arthouse
Photo Credit: Flickr/Amanda Slater


Kidogo Arthouse

Bathers Beach, Mews Road, Fremantle, phone 9335 9636. Contact the gallery directly for opening times. The Kidogo Arthouse sits on the edge of the beach in Fremantle and is housed in a heritage-listed limestone building which dates back to 1884. It hosts local, national and international artists.

Kingfisher Gallery (PLEASE NOTE: Kingfisher Gallery has CLOSED)

49 Colin Street, West Perth, phone 9486 9822. Open Wednesday – Friday 11.00am – 4.00pm, Sunday 1.00pm – 4.00pm or by appointment. Kingfisher Gallery displays Australian contemporary and indigenous art in a range of mediums including painting, photography, glass, pottery, printmaking, sculpture and jewellery.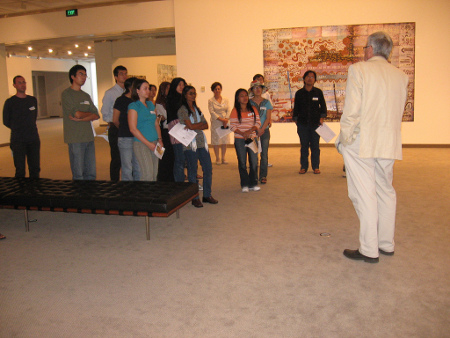 UWA Lawrence Wilson Gallery
Photo Credit: Flickr/uwa_studentservices


Lawrence Wilson Gallery

The University of Western Australia, 35 Stirling Highway, Nedlands, phone 6488 3707. Open Tuesday - Friday 11.00am – 5.00pm, Sunday 12 noon – 5.00pm. . This gallery houses the university's collection as well as displaying contemporary works and travelling art exhibitions.

Lister Gallery

316 Rokeby Road, Subiaco, phone 9382 8188. Open Monday - Friday 10.00am – 5.00pm, Saturday 2.00pm – 4.00pm. This gallery has contemporary Australia art from the 1950s to present day.

The Moores Building Contemporary Art Gallery

Managed by the Fremantle Arts Centre, 46 Henry Street, Fremantle, phone 9335 3519. Open daily 10.00am – 5.00pm. The gallery offers six individual spaces highlighting history and contemporary visual art and craft.

Mossenson Gallery - Indigenart

115 Hay Street, Subiaco, phone 9388 2899. Open Monday - Friday 10.00am – 5.00pm, Saturday 11.00am – 4.00pm. This gallery displays a diverse range of Aboriginal art from all over Australia.

Perth Galleries

92 Stirling Highway, North Fremantle, phone 9433 4414. Open Tuesday - Friday 10.00am – 5.00pm, Saturday 11.00am – 5.00pm and Sunday 2.00pm – 5.00pm. This is next door to Gallery East and exhibits work of both established and emerging artists. It also represents Sotheby's in Western Australia.

Perth Institute of Contemporary Arts (PICA)

Perth Cultural Centre, James Street, Northbridge, phone 9228 6300. Open Tuesday - Sunday 11.00am – 6.00pm. This is near the Art Gallery of Western Australia in the cultural centre of Northbridge and is considered the home of contemporary art in Perth

Seva Grangos Art

271 Rokeby Road, Subiaco, phone 9380 9938. Open Tuesday - Saturday 11.00am – 5.00pm. This gallery has a strong focus on Aboriginal and Torres Strait Island artists.

Stafford Studios (PLEASE NOTE: Stafford Studios has CLOSED)

102 Forrest Street, Cottesloe, phone 9385 1399. Open Tuesday - Friday 10.00am – 5.00pm, Sunday 2.00pm – 5.00pm. This studio houses WA, Australian and international works, particularly ceramics, sculpture and fine silver.

Other Perth Walkabout Articles

Please see a Guide to Perth Art Galleries for the Arty Farty Part One for more art galleries in Perth in alphabetical order from A-G.

Heathcote Reserve - Top Spot for a Family Day Out

PICA - Where Old School Houses New Art