Details

Category: Arts & Culture
Last Updated: Monday, 10 January 2011 10:27
Published: Wednesday, 10 November 2010 09:54
Written by Vicki Sly
Lovers of art living in or travelling to Perth have enough galleries to visit to keep them busy every weekend throughout the year.

Okay, so maybe not every weekend as you do need to get outside occasionally to soak up the Perth weather and get some fresh air, but perhaps every other weekend is not an exaggeration.  Either way you look at it, the list is long and is by no means exhausted.

For the sake of easy reading, I have placed the galleries in alphabetical order with a street location, phone number, opening hours (accurate at time of publishing) and a small summation of what the gallery is all about so you can choose if it is of interest or not. Many of the galleries have free admission but you may wish to call ahead for further details.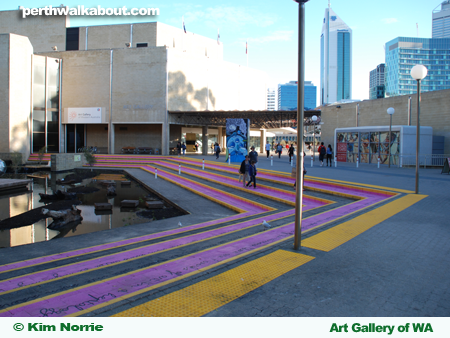 Art Gallery of Western Australia

Perth Cultural Centre, Northbridge, phone 9492 6600.

Open daily 10.00am – 5.00pm, closed Tuesdays.

This is the big one at the heart of the Perth Cultural Centre with thousands of exhibits and national and international works on display. A must-see for art lovers and visitors to Perth.

Breadbox Gallery, The Bakery Artrage Complex


233 James Street, Northbridge, phone 9227 6288.

Open Thursday - Sunday 12 noon – 5.00pm.

This is a music, art, film and theatre venue so there is always something cooking at the Bakery.

emerge Art Space

676A Beaufort Street, Mount Lawley, phone 9271 6459.

Open Wednesday - Saturday 11.00am – 4.00pm or by appointment.

Located in the heart of Mount Lawley's cappuccino strip, this gallery features contemporary and indigenous Australian art.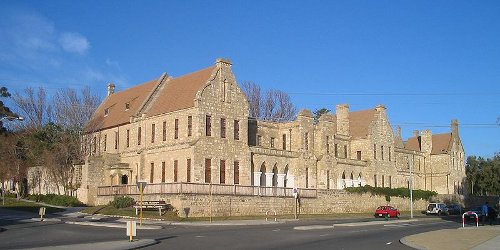 Fremantle Arts Centre
Photo Credit: Wikipedia/Moondyne

Fremantle Arts Centre

1 Finnerty Street, Fremantle, phone 9432 9555.

Open daily 10.00am – 5.00pm.

This multi-arts organisation is situation on the historic site of the first purpose-built 'lunatic' asylum in WA and has been an art centre since 1972. The gallery exhibits contemporary art from all over the world and is also a popular art learning centre.


Fremantle Prison Gallery


Fremantle Prison, The Terrace, Fremantle, phone 9336 9200.
Open daily 9.00am – 5.00pm.
The Prison Gallery features prisoner's art, works from the Prison collection and touring exhibitions that are relevant to prison life.


Galerie Düsseldorf


9 Glyde Street, Mosman Park, phone 9384 0890.
Open Wednesday - Friday 11.00am – 5.00pm, Sunday 2.00pm -5.00pm or by appointment.
Opened in 1976, this is Western Australia's longest established private art gallery which represents contemporary artists with exhibitions changing monthly.


Gallery Central


12 Aberdeen Street, Perth, phone 9427 1318.
Open Monday – Friday 10.00am - 4.45pm, weekends vary.
This gallery is based at the Central Institute of Technology (formerly TAFE) and hosts both local and international artists, as well as graduate exhibitions.


Gallery East


94 Stirling Highway, North Fremantle, phone 9336 6231.

Open Tuesday -Saturday 11.00am – 5.00pm, Sunday 2.00 -5.00pm.

As the name suggests, this gallery specialises in the art and crafts of Japan and those artists who have been influenced by all things Japanese.


Gomboc Gallery Sculpture Park


50 James Road, Middle Swan, phone 9274 3996.

Open Wednesday - Sunday 10.00am – 5.00pm.

This is situated in the Swan Valley on 4.5 hectares with sculpture grounds that are a work in progress. It also has an indoor gallery with new exhibitions each month.


Greenhill Galleries

6 Gugeri Street, Claremont, phone 9383 4433.

Open Monday - Friday 10.00am – 5.00pm, Saturday 10.00am – 4.00pm.


This gallery hosts some big names and has works by Robert Juniper on show at all times.

Keep a look out for the Perth Walkabout Part 2 Guide to Perth Art Galleries for the Arty Farty for even more art galleries in Perth.

In the meantime, please browse our other Perth Walkabout articles in the Art and Culture section.