Details

Category: Arts & Culture
Last Updated: Wednesday, 22 December 2010 08:35
Published: Monday, 13 December 2010 13:23
Written by Emma Brandon
As summer approaches and the sun sets, Beck's Music Box lights up with a bevy and some of the best Australian and international acts. Every year at this time, Beck's Music Box comes alive with artists for all,  hard rock lovers, to blitzing dance floor acts, and even some new age electronica. Or even some acoustic sounds of soul for a more intimate feeling. Whatever the act, Beck's is sure to have it served on a platter for you to taste.

This is Beck's fourth year running and is open every night of the week from Saturday, February 12 – Sunday, March 6 and is situated on our beautiful Swan River, on The Esplanade. Shows usually start around 8 – 8.30pm and finish around 10.30pm, once the main act has finished it is free entry for other patrons to come and enjoy Beck's after parties, with Western Australian musicians and DJs. All patrons must be over 18 years old or accompanied by an adult, depending on the show. All ticket can be purchased either through the Festival of Perth website or Bocs ticketing website or outlets.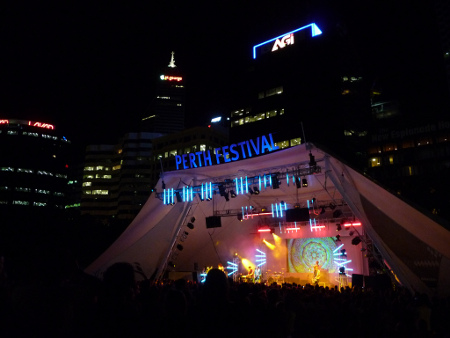 Beck's Music Box
Photo Credit: Flickr/Bron


Spend an evening in the open air under a night sky full of stars while listening to some of your favourites. With affordable drink and ticket prices, this year will once again be a reason to get excited. With an outdoor bar, comfy couches to relax on and plenty of snacks at the café, all you need to bring is yourself. It's time to get started by making your plans now with the wonderful line-up.

2011 has a variety of choice from opening night with Roy Ayers, all the way from USA and bringing his up lifting tunes of jazz, early disco and a blend of funky soul. To New Zealand's Indie-rock band, The Bats, ready to get the Esplanade grooving. A must see is The Best Of Taylor Mac, which Is featuring the best songs from his award winning shows. New York's legendary cabaret – drag performance, which is  wickedly funny and will demonstrate why Taylor Mac is considered one of the most exciting theatre artists in all time, it is a must see, as well as an eye opener.

My personal favourite that I'm looking forward to this year is The Public Opinion Afro Orchestra, from Melbourne come the original afro-beat heavy weights that will deliver an incredible contemporary African funk that will have your body shaking, and I mean shaking.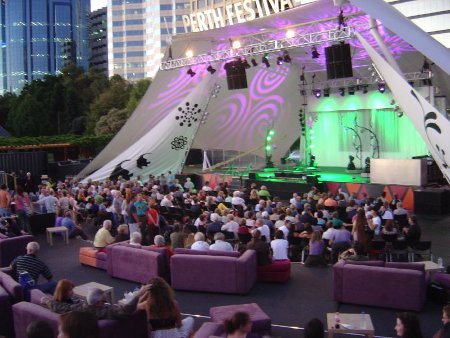 Beck's Music Box
Photo Credit: Flickr/Kat S


With this classic line-up ahead it looks like it's going to be a remake of last year's magical month of music, pertholans and summer night. With all this choice the only hard decision is deciding what shows to attend.  Last February I had the pressure of watching Antony and The Johnsons live with WASO. Had a cold glass of bubbly in my hand, with a great bunch of friends and best of all out under the stars on a warm Perth night, what more could you want? It was absolutely brilliant, Beck's vibe is for the young and old, if your into music, culture and a lovely Aussie night out then Beck's is where you need to be this summer!
Go here to view line up of performances at Beck's Music Box in 2011.

Have you been to Beck's Music Box in the past?  Or are planning to go next year?

Please feel free to leave comments below as I would love to hear your thoughts!