Details

Category: Arts & Culture
Created: Wednesday, 06 October 2010 11:15
Published: Wednesday, 06 October 2010 11:15
Written by Vicki Sly
State Library of Western Australia
25 Francis Street
Perth Cultural Centre
Perth WA 6000

Opening hours:     
Monday to Thursday 9.00am - 8.00pm
Friday 9.00am - 5.30pm
Saturday and Sunday 10.00am – 5.00pm
Closed on all public holidays

Phone: 9427 3111
If you are looking to feed your mind or nourish your soul, the State Library of Western Australia has more on offer than just books.
Situated at the heart of the Perth Cultural Centre in Northbridge, the library is home to over half a million books, but dig deeper and there's even more treasures to find.
It also boasts newspapers and magazines; exhibitions, tours and matinee movies; job information, internet services and computers; and even a book shop and café.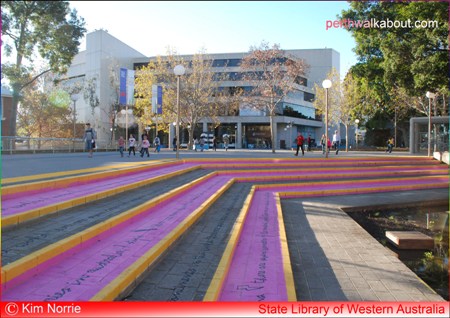 Both locals and travellers to Western Australia are welcome to use all of the facilities on offer.  The best way to see everything that's available is to take one of the free 50-minute tours of the library.  These run every Tuesday from 12.30pm and leave from the Discovery Lounge on the ground floor.  Bookings are not required.

The State Library WA also runs exhibitions on a regular basis and these are often a great introduction to Australian life and literature.  To source information on the latest exhibitions, visit the library's blog site which is written and updated by the staff.

Every Wednesday at 12.30pm the library holds a matinee movie session featuring films and videos from the library's collection. These screenings run for approximately one hour and are a great way to rest up out of the weather, be it hot or raining. Bookings are not necessary.

If you are chasings local newspapers or magazines with information for travellers, try the third floor. There are also country newspapers in the collection and this is always a great way to find accommodation and job information outside of the city area.

Most visitors to Perth these days are in search of internet access. The library has fast access internet computers available in the Discovery Lounge on the ground floor for 20 minute periods and again, no bookings are required. If you do wish to have access to a computer for a longer period of time you will need to join the library.

The lending service for travellers involves a $20 deposit fee that is refunded once you return the items before moving on.  You can borrow two items over a three-week lending period with your visitor's card.  This is a great option if you want to read your way through some local literature but don't want the expense of buying books or the hassle of having to carry them while you travel.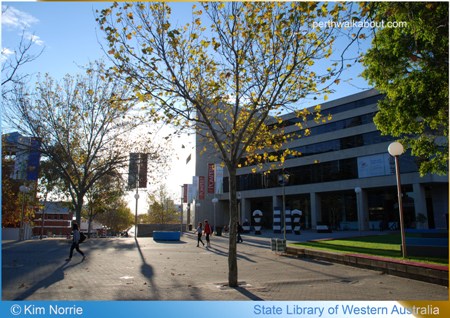 If you do want some cheap second-hand books for that long-haul flight or bus ride ahead, the State Library Shop sells preloved library books, as well as great postcards, maps, greeting cards and stationery.  Its motto is "Proudly Supporting Western Australian Publishing" so you will find some great examples of local authors and publications focussing on Western Australia on sale.

If you need a coffee buzz to clear your head after a morning in the library, then try the Aroma Café on the ground floor. There are also public toilets just past the café, a nursing mothers' room and lockers for backpacks.

How to get there

The State Library of Western Australia is located in the Alexander Library Building which is part of the Perth Cultural Centre. It is situated in Northbridge between Francis Street and the James Street Mall.