Details

Category: Arts & Culture
Last Updated: Wednesday, 19 January 2011 13:33
Published: Friday, 29 October 2010 12:37
Written by Lee-Ann Khoh
The word "graffiti" is often associated with vandalism. However, when it's not being used to describe the tags and scribbles on buses, buildings, walls and toilet cubicles, graffiti is also a form of artistic expression. Like all art, it is subjective and some would disagree about its artistic value, but it is slowly gathering mainstream acceptance.
Graffiti has been used as a form of political or ideological expression, such as the famous murals in Northern Ireland and the work of the internationally renowned but mysterious street artist known as Banksy. Street art or urban art is perhaps most commonly associated with hip-hop and urban youth subculture, appearing in New York in the 1970s and coming to Australia in the 80s as rap music filtered through to our shores.
While street art throughout history has often been unauthorised (and hence illegal), adding to its controversy, there are also commissioned works and some of these can be seen around Perth.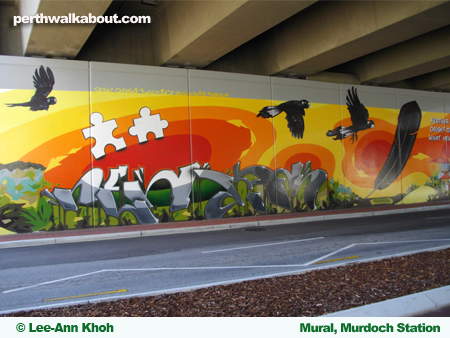 In a bid to tackle the multimillion dollar costs of cleaning up vandalism each year, the Public Transport Authority launched its Urban Art Project. The program has seen recognised aerosol artists such as Stormie Mills, Drew Straker, Mike Barker, and David Garland mentor and work with students to create artworks around graffiti-prone areas on the Transperth network. You can see the results for yourself at:
Booragoon Bus Station
Bull Creek Station (underpass and bin compound)
Cannington Relay Station
Cockburn Central Station (bin compound)
East Perth Relay Station
Edgewater Station (under the stairs)
Glendalough Station (bridge wall)
Gosnells Relay Station
Hillman Footbridge, Rockingham
Joondalup Bus Station
Kenwick Flyover (between Kenwick and Beckenham on the Armadale Line)
Kenwick Substation
Kwinana Station (bin compound)
Mandurah station (bin compound)
Murdoch Station (bridge and bin compound)
Rockingham City Centre Transit System (underpass)
Warnbro Station (bin compound)
Wellard Station (bin compound)
The City of Melville also runs a street art program called PHAZE over nine months each year. PHAZE gives 12 to 24 year olds the opportunity to work with professional urban artist Dan Duggan and paint their own designs at skate parks in Leeming and Melville.
The City of Cockburn also commissioned a series of artworks, including street art, as part of its Drive Thru Art Gallery project. Established artists including Dan Duggan, Minaxi May, and Lesley King worked with young people in the community to produce these works, which include:
Bus shelters on Rockingham Road and Ralston Road, Hamilton Hill
Bus shelters on Counsel Avenue and Cordelia Avenue, Coolbellup
Bus shelters on Yangebup Road and Osprey Drive, Yangebup
East Beeliar Community Centre
Southwell Community Centre
Cockburn Neighbourhood Watch caravan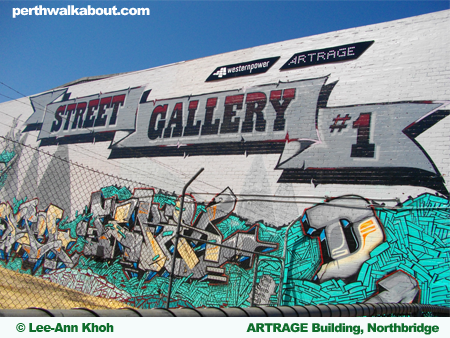 Other similar projects include the murals on the retaining wall near Bayswater Train Station (commissioned by the Bayswater council and the Department of Planning and Infrastructure) and Western Power's Innaloo substation (organised by Propel Youth Arts WA).

ARTRAGE also holds aerosol art workshops for 18 to 25-year-olds in Northbridge, corner of Roe and Milligan Streets. These programs are seen as a way of providing young people with legal avenues to express themselves and develop their artistic skills, while helping to combat illegal graffiti and destructive vandalism.
Know any other cool urban artworks in Perth? Got an opinion on graffiti art in general? Leave a comment below.

You may also be interested to read Perth Walkabout's article "Off the Beaten Track to Explore Perth's Laneways".