Details

Category: Arts & Culture
Last Updated: Wednesday, 26 January 2011 10:39
Published: Monday, 22 November 2010 22:16
Written by Vicki Sly
People often unfairly label Perth as being a bit short on culture.

"There's more culture to be found in a tub of yoghurt" was perhaps one of the harshest comments I have heard over the years.

But how can this be true when there are enough live theatres and art galleries in Perth to visit one a week for the entire year and still not see them all?

Here at Perth Walkabout, we aim to change the unjust perception of Perth that exists and help people find their way to as many cultural hot spots as possible.

For the sake of easy reading, I have placed the theatres in alphabetical order with a street location and phone number, along with a small summation of what makes each one unique.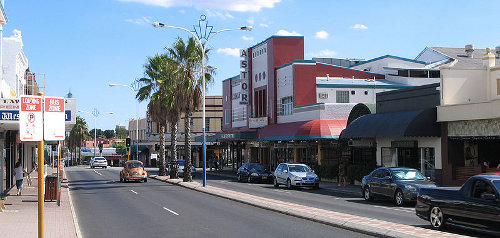 Astor Theatre
Photo Credit: Wikipedia/Greg O'Beirne


The Astor Theatre

Corner Beaufort and Walcott Streets, Mount Lawley, phone 9370 1777. I always thought this iconic art deco theatre that has been around since 1919 was just for films. Wrong. It also hosts live theatre, live music, dance and private functions. Nestled in the heart of the cappuccino strip of one of Perth's hippest suburbs, make sure you look it up.

The Blue Room Theatre

53 James Street, Northbridge, phone 9227 7005.  This theatre is housed in what was once a science lab for Perth Central School. Intimate is a word that springs to mind. The theatre runs 16 different three-week performances throughout the year and is aimed at supporting Perth's upcoming artists.

Deckchair Theatre

Victoria Hall (rear), 179 High Street, Fremantle, phone 1300 314151. Founded in 1983, the recently-restored Deckchair is situated in Victoria Hall and is the only theatre for adults located in Fremantle. The theatre prides itself on celebrating new Australian writers and theatre makers and promoting West Australian stories. Recommended for a quintessential Aussie experience.

The Dolphin Theatre

The University of Western Australia, 35 Stirling Highway, Nedlands, phone 6488 7407. The Dolphin Theatre is located on the campus of the University of Western Australia and has been in operation since 1976. Apart from university productions, it is a popular venue for the Festival of Perth each summer. It is noted as a proscenium arch theatre. I had to look that one up in the dictionary! It means the decorative arch between the stage and the auditorium. This is a great venue for intimate shows.

Hayman Theatre

Curtin University, Kent Street, Bentley, phone 9266 9266.  The Hayman is based at Curtin University and is the theatre where you will find students of the university's Performance Art course walking the boards.

Heath Ledger Theatre

Corner of Roe and William Streets, Northbridge.  Due to open its doors on 27 January 2011, this theatre is a part of the new state-of-the-art State Theatre Centre of Western Australia. It is named after the Perth-born Hollywood film star who passed away in 2008 at the age of 28. Ledger was famous for his films that included Brokeback Mountain and The Dark Knight.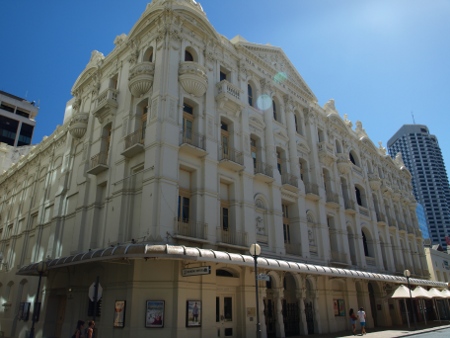 His Majesty's Theatre
Photo Credit: Wikipedia/Mark


His Majesty's Theatre (the Maj)

825 Hay Street, Perth, phone 9265 0900. This iconic landmark of Perth, which opened its doors for business way back on Christmas Eve 1904, is home to West Australian Ballet and West Australian Opera. The Maj is located in the heart of the city and is the only working Edwardian theatre in Australia. The theatre also houses the Museum of Performing Arts downstairs which operates Monday - Friday 10.00am – 4.00pm. If you don't have time to grab a show, this beautiful building is still worth a visit.

New Fortune Theatre

The University of Western Australia, 35 Stirling Highway, Nedlands, phone 6488 7407.  Perhaps one of the lesser-known theatres of the University of Western Australia, the New Fortune gets a mention on this list for those amongst us who love Shakespeare. It has been based on the concept of Shakespeare's Globe Theatre and must rate as one of the best places in Perth to see the Bard's work.

Please keep a look out for our Part 2 Guide to Perth Live Theatres for a Taste of Culture for even more theatres in Perth.

You may also enjoy reading our Perth Walkabout article on Shows Fit for a King at His Majesty's Theatre.