Details

Category: Arts & Culture
Last Updated: Wednesday, 27 April 2011 12:12
Published: Wednesday, 09 February 2011 16:38
Written by Vicki Sly
Like to think of yourself as a nature lover but don't really want to head outdoors in the searing summer heat?

Need to hire a mountain lion, camel or reindeer for the next Christmas party?

Seen the movie A Night at the Museum and loved it?

If you answered "yes" to any of the above then one of Perth's best-kept secrets is well worth a visit.

Located in Guildford, about 12 km from the centre of Perth, is The Museum of Natural History and Academy of Taxidermy.

Okay, so it may not be the Smithsonian Institution and the animals and exhibitions may not come alive every night due to an ancient curse like in the movie, but be prepared to stop and marvel at the craft of taxidermist Michael Buzza who has been in the business for over 40 years.

Taxidermy is the art of preserving animals by preparing their skins, stuffing them and mounting them to look lifelike.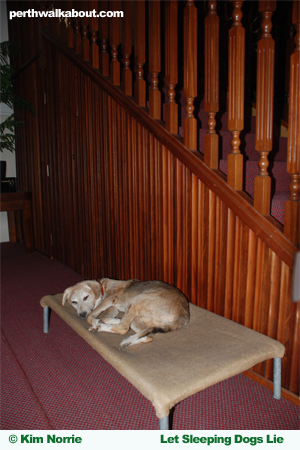 If the sleeping dog at the entrance to the museum and workshop at 131 James Street, Guildford is anything to go by, then Michael is a true artist. Many are fooled by the dog: it is only when it doesn't respond to pats that they realise it isn't alive. Unfortunately it was killed in a car accident but has been preserved to welcome guests to the Art Deco museum that doubles as Michael's home.
For a $2 entry fee, there is everything on display from a great white shark, large mammals and a giraffe to fish, reptiles and insects. Michael is also happy for visitors to come and watch while he works on the preservation of his latest animal. The bit where he hydroblasts the remaining flesh from the bones may not be for the fainthearted!
Michael likens taxidermy to taking apart and putting back together a giant jigsaw puzzle which he lays out on the ground in sections. Putting the animal back together involves moulding, sewing, painting, air brushing and creating glass eyes. Where feathers are involved, they will also be shampooed and blow dried.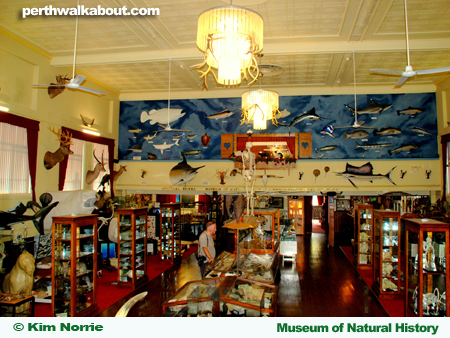 Apart from being on display for the general public to view, Michael's animals are often hired by a range of groups and organisations for different reasons including film and television.  Imagine having a lifelike mountain lion in your school play or a saltwater crocodile keep watch at your next pool party?
Speaking of parties, the museum is happy to host birthday parties. Now that would definitely be something different to keep guests talking long after the event! Or how about taking a course in taxidermy which is also an option? What a conversation starter that would be.
How to get to Guildford
If travelling by car from Perth city centre, take either Great Eastern Highway or Guildford Road (from Lord Street) as both eventually meet up near James Street. For those travelling by public transport from the city, take the train east on the Midland Line to Guildford Train Station.
Other Perth Walkabout Articles

Step Back in Time and Explore Historic Guildford on the Swan River

Fremantle Flourishes with Harbour Views and Rich History

Claremont - The Old Perth Suburb with Everything