Details

Category: Arts & Culture
Last Updated: Friday, 08 July 2011 12:50
Published: Wednesday, 16 February 2011 10:36
Written by Vicki Sly
As the international debate on book versus e-book continues to rage on, Perth's bookshops offer a quiet place to ride out the storm for the diehards amongst us that cannot imagine a life minus the turn of a page.
Okay, I understand the benefits for the planet and my hip pocket that the e-book offers, but call me old-fashioned; I just can't resist a good bookshop.
Perhaps it is the smell, or the "sequestered nooks" that American poet Longfellow wrote about, but a trip to a bookshop is still considered one of life's great pleasures for this gal.
There are many useful chain stores scattered through the city, but Perth also has a host of interesting independent shops that I like to frequent and support that promise to nourish the soul.
For the sake of this article I have chosen some of the most interesting and some of my favourites and have placed them in alphabetical order with a street location and phone number, along with a small summation of what makes each bookshop unique.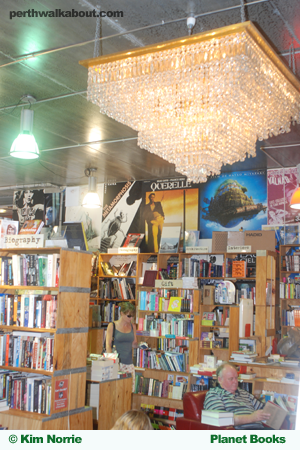 Bookcaffe
137 Claremont Crescent, Swanbourne, phone 9385 0553.

The Bookcaffe is a bookshop that offers everything in life that you could want – good books and great coffee. I would consider moving in only the owners might notice and not approve. This bookshop has been WA's Independent Bookseller of the year for the past three years so definitely has a winning combination. The store host book clubs and often hold literary events so next time you are heading to the beach, pop in for a browse.
Crow Books
900 Albany Highway, East Victoria Park, phone 9472 9737.

This bookshop has just opened up on the busy restaurant strip in East Vic Park and has to be one of Perth's newest. To accommodate the night crowds, it is open till 9.00pm each night.  Crow Books is a bit alternative and stocks lesser-known imprints so might be appealing for those looking for something a bit funky.
Elizabeth's Bookshops

There are five of these bookshops to be found in the city centre, Subiaco and Fremantle. Elizabeth's is a Perth institution and since the early 1970's has been the place to go for second-hand books, books out-of-print and imports. Elizabeth's prides itself on being able to offer quirky titles and is a great place to lose yourself for a few hours minus the big expense.
The Lane Bookshop
52c Old Theatre Lane, Claremont, phone 9384 4423.

Any bookshop owner who is willing to sit my husband in a corner and ply him with cappuccinos while I spend hours selecting books gets a thumbs up from me. This beautiful bookshop turned 30 in September last year and a visit down the lane is recommended.  The Lane has a loyal following and the staff readily pass on feedback and reviews about books, i.e. they never recommend a novel just for a sale; it has to be a great read.
Oxford Street Books
119 Oxford Street, Leederville, phone 9334 9844.

Situated on the busy café strip in Leederville, this bookshop is open late each night for the after-dinner browse and has some great coffee table books and interesting titles across all genres.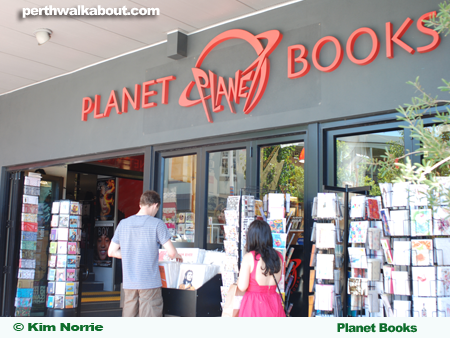 Planet Books
636-646 Beaufort Street, Mount Lawley, phone 9328 7464.

Planet Books is part of the massive Planet shop on the corner of Beaufort and Walcott streets that is famous for its movies, music and clothing. The book section is down the steps towards the city end of Beaufort Street and is like stepping in a large lounge room with big comfy couches and coffee tables.  Planet is renown for both the offbeat and the classic book and is a great place to find gifts that are a little bit quirky.
Can't make up your mind which bookshop to visit first? Perth Walkabout writer Amanda Kendle and her friend Jen have just started a bookshop tour of Perth which buses people around to a number of bookshops. Check out Bookshop Tours for more information.

Other Perth Walkabout Articles

Guide to Art Galleries in Perth for the Arty Farty Part One
Don't Judge a Book By It's Cover - There's More to the State Library of Western Australia Than Meets the Eye
Claremont: The Old Perth Suburb with Everything

Bicycles, Birds, Books and Blooms in Bayswater