Details

Category: Arts & Culture
Last Updated: Friday, 18 March 2011 09:06
Published: Monday, 22 November 2010 22:18
Written by Vicki Sly
Live theatre in Perth is just that - alive and well.

Many of Perth's theatres are housed in some of the most historic and interesting buildings that you will come across in your stay in Perth. If you don't have time to see all the shows on offer, at least try and visit a few of the remarkable building.

This is Part Two of a Guide to Live Theatres in Perth as there are just too many wonderful places to pack into one article. 


Octagon Theatre

The University of Western Australia, 35 Stirling Highway, Nedlands, phone 6488 7407. The Octagon Theatre is located on the campus of the University of Western Australia and has a thrust stage which changes the shape and size of the theatre to suit the production. In the past it has hosted opera, classical and popular music, dance, theatre and stand-up comedy.

Old Mill Theatre

Mend Street, South Perth, phone 9367 8719. Located opposite the Windsor Hotel in the heart of South Perth, this heritage-listed theatre is around 60 years old, although the building dates back to 1899.  It was renovated in 2008 by the City of South Perth and is one of the most historic buildings in the area.

Playhouse Theatre

3 Pier Street, Perth, phone 9323 3400. The Playhouse Theatre in the heart of the city has been the home of several professional theatre companies since it opened in 1956, namely the National Theatre Company, the Playhouse Theatre Company, the Western Australian Theatre Company and the Perth Theatre Company. Interestingly, this theatre began its life as a church tennis court.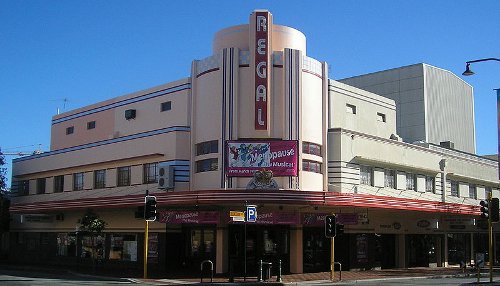 Regal Theatre
Photo Credit: Wikipedia/Ali_K


Regal Theatre

474 Hay Street, Subiaco, phone 1300 795 012.  This theatre was built in 1925 for the purpose of becoming a cinema and it was only in 1977 that it was converted to a live theatre. Named for King George VI, the Regal has a rich history with over 200 productions under its belt. This is another grand old dame worth a visit, if not for a show, then for an appreciative tour of the building.

Spare Parts Puppet Theatre

1 Short Street, Fremantle, phone 9323 3400. This is one of Australia's leading puppetry theatres.  The company is based in Fremantle directly opposite Fremantle train station but tours nationally and internationally each year. At the Short Street premises you will find a theatre, workshops and a museum for puppets. This is must-see for the young and young at heart.

State Theatre Centre

Corner of Roe and William Streets, Northbridge. Due to open on 27 January 2011, this theatre will house the Heath Ledger Theatre and Studio Underground.  It will focus on local contemporary work and be the home ofThe Black Swan Theatre Company.  The Black Swan is Western Australia's flagship theatre company and has been in operation since 1991 when it performed Bran Nue Dae at the Festival of Perth.  The move to the new State Theatre Centre of Western Australia will see Black Swan take up the prestigious position of the resident company.

Subiaco Arts Centre

180 Hamersley Road, Subiaco, phone 9380 3000. This is a three-part multi-facet theatre with a main auditorium, an intimate studio and a theatre garden.  It is also the home of the Barking Gecko Theatre Company – a specific theatre company just for children that has been around since 1991.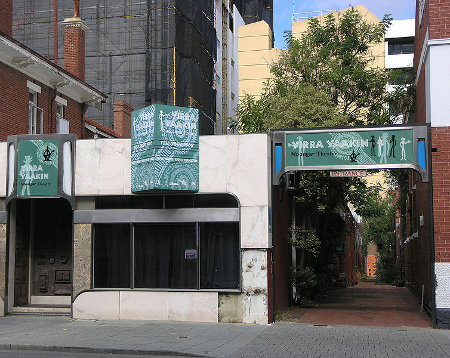 Yirra Yaakin Theatre Company
Photo Credit: Wikipedia/SeanMack

Yirra Yaakin Aboriginal Theatre Company

65 Murray Street, Perth, phone 9202 1996. Located in the city centre, this is Australia's leading Indigenous theatre that has won a host of awards and prides itself on enabling Aboriginal communities to continue to perform their own stories for a wider audience.

For more theatres in alphabetical order from A-N, please see Perth Walkabout's Part One Guide to Live Theatres in Perth.



Other Perth Walkabout Articles

All Good Things Must Come to An End! - Perth Festival

Shows Fit for a King at His Majesty's Theatre

Stylish Subiaco is a Drawcard