Details

Published: Wednesday, 10 November 2010 18:25
Written by Amanda Kendle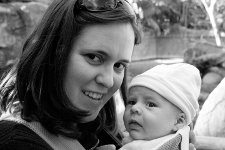 Amanda Kendle


I'm a born-and-bred Perth girl who loves to travel but keeps coming back to my great hometown. In fact, I've lived in Asia and Europe but still think that Perth and Western Australia are the greatest places to live - especially with a family, as I've now got one son. The weather, the relaxed lifestyle, the ability to visit the beach whenever you want and the friendly people are all reasons to visit and stay in Perth.

My writing experience spans many years and many internet sites, and I'm involved in training and consulting in blogging and social media. As well as travel writing and other freelance writing work, I am constantly struggling to get a novel published - I love writing fiction, but it's a lot harder! I also sometimes work teaching English as a second language to adults, but it's so interesting that I think I learn more than the students do.

When I'm not writing or travelling, I like to eat chocolate, go swimming and read. Of course, I'm happiest if I can do a few of these things all at the same time.

You can follow my travel writing life at Not A Ballerina and see if I'm successful with my quest to become a published novelist at Becoming A Fiction Writer.