Details

Published: Wednesday, 29 February 2012 12:33
Written by Becky Jean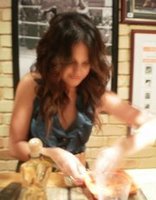 I discovered my passion for writing at University. Originally hoping to
become a Camera Operator, that dream was swiftly swept under the rug
after taking a few Creative Writing and Screen Writing units.
Realising this was much more my cup of tea, I put pen to paper (or
fingers to keyboard) whenever possible.
By day, I work at a commercial radio station as a Creative Writer.
However by night, you're likely to find me huddled over my laptop,
working on my Screenplay. Or watching re-runs of The Wonder Years,
hoping and praying that I will one day marry Kevin Arnold.
I often contribute to the website Weekend Notes as one of the top
Writers for Perth. My articles are about really important issues, such
as How To Make an Indoor Cubby House, or How to Survive a Zombie Attack.

You can view my profile here.
http://www.weekendnotes.com/profile/103790/
I have recently become a mad runner, and am training for my first
marathon. There's no better way to clear a crazy mind than to take a
long run in the open air.
I feel my writing remains fresh and unique after hitting the pavement,
whilst of course my passion and love for what I do also plays a part in
that.
I hope you will enjoy reading my articles as much as I enjoy writing
them, because every teeny tiny word comes straight from my heart.