Details

Category: Day Trips
Last Updated: Wednesday, 20 October 2010 05:36
Published: Tuesday, 12 October 2010 15:39
Written by Aaron Koo
Lancelin is a small fishing town nestled between the ocean and sand dunes located around 127 kilometres north of Perth. The town is very small and is very popular for its oceanic views, beaches and sand dunes. My friends and I decided to visit the sand dunes in Lancelin and try out some snowboarding during the long weekend.

The Lancelin sand dunes provides a small touch of desert experience for people like myself who have not been to a desert. If you intend to visit the desert and have no idea of what to expect, maybe you can check out the sand dunes to see if it is your cup of tea. Once you enter the sand dunes there are literally only two things to see, sand and rock. There is a parking area on rock for you to park your car and you walk into a land full of nothing but sand.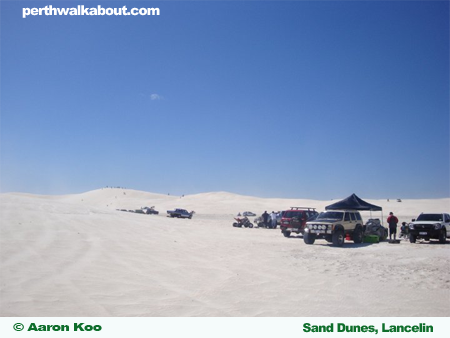 I urge everyone who intends to visit the sand dunes to come a little prepared (unlike myself). The main thing you should bring to the sand dunes is a pair of goggles. There will constantly be sand blowing in your face and your eyes will hurt if you do not wear the appropriate protective eye equipment. For your clothing, come in something comfortable and "sand-friendly" if you are planning to do some sand boarding - be prepared to fall into the sand many times!

There are a few shops around that hire out sand boards, such as the Lucky 7 Convenient store, the gas stations and surf shops. The boards that we hired out were $15 for 2 hours with a refundable $50 deposit if the boards came back undamaged.

The environment for sand boarding in the sand dunes is very good. Most of the people there are tourists or families who are having a bit of fun, don't worry its not filled with professional sand boarders where you have to feel embarrassed when you fall off your board constantly. You will also see many people dirt biking and riding around in assorted sand vehicles in the Lancelin sand dunes.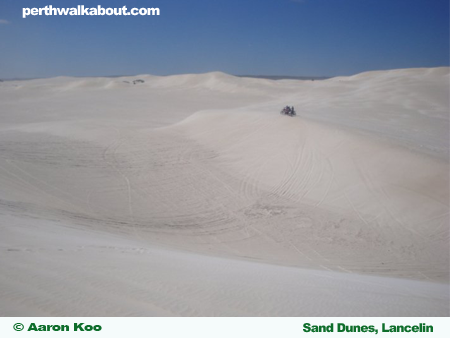 As you can see, the sand dunes are beautiful. It will be a great place (especially for the aspiring photographers out there) to capture some great photos and memories. To be very honest, I have never been someone who has had a strong interest in this sort of activity but I came back from the sand dunes very glad that I experienced it at least once in my life. Also there is nothing better than jumping in the nice cool water in the Lancelin beaches nearby after a long day in the sand dunes.

I recommend all those who have never been to the Lancelin sand dunes to try it out during a long weekend or a holiday. Whether you are an outdoors sort of person or not, it will be a memorable experience and you will be very glad you tried it at least once in your life.

Enjoyed your visit to Lancelin?

Please share your comments below.