Details

Category: Day Trips
Created: Friday, 24 September 2010 15:47
Published: Friday, 24 September 2010 15:47
Written by Christofer Gustavsson
Located about 72 kms south of Perth in Western Australia is the beautiful city of Mandurah. Due to its location on the coast, the city attracts a large number of national and international tourists throughout the year. Dolphins, seagulls and the very rare blue manna crab are found in the waters of Mandurah. If you are a fan of boating, fishing, or swimming, there is no place better to visit than this.
Just a few minutes travel along the Husband Road will bring you to Abingdon Miniature Village. The vast gardens and miniature houses from the United Kingdom will take a day to cover. The village is spread across 7 kms and has a number of restaurants and pubs in it. It was developed in 2003 and is an ideal spot for a family picnic. These buildings are based on the styles of twelfth-century architecture. It is reported that some of the larger buildings took more than 600 hours to complete. The village is open from 9.00 am to 4.30 pm daily. The entry fee is $14 for adults and $7 for children.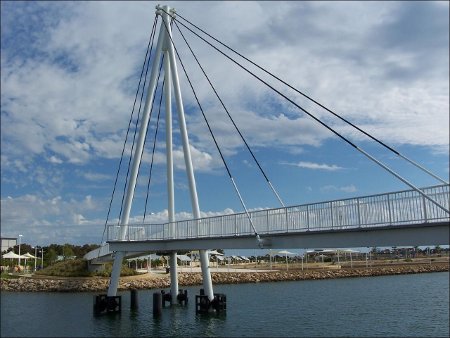 Mandurah Ocean Marina Bridge
Photo Credit: Wikipedia/Hourann Bosci
If you are staying in the city, drive along the coastline and enjoy the Mandurah foreshore.  From here you can take a ferry to the ocean to experience the beauty of the waterways of Mandurah. You will be able to experience an endless series of water canals surrounded by massive houses along the ride. Don't be surprised if beautiful dolphins pay you a visit during your trip. You will also witness a large variety of birds, including the rare pelican.

Have you ever considered celebrating your wedding or birthday on a moving cruise? Well now this is completely possible for an affordable rate in Mandurah. When you drive for around half an hour from the South of Mandurah, you will reach Bouvard Cruises. You can book them for a day, a night or for any special occasion. If you just want to enjoy the beauty of the ride that is an option too! Bouvard runs cruises back to back throughout the day so that people can enjoy the waterways and wildlife of Mandurah. You can also pick tour packages like the Lunch Tour package or the Fish and Chips package.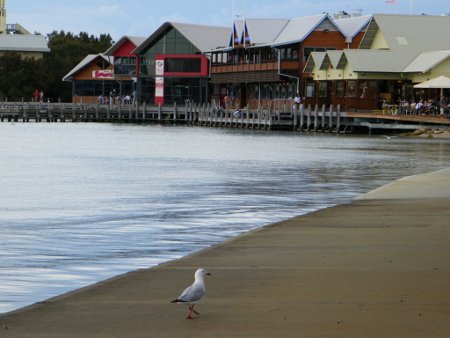 Mandurah Foreshore
Photo Credit: Wikipedia/Michael Spencer
If you are feeling peckish during the day, there are a plentiful number and variety of restaurants on the Mandurah foreshore to choose from including the iconic Ciccerelo's overlooking the Peel Inlet to get your fix of fish and chips, or taste of fresh seafood.

Make sure you visit MacNuts WA to get an ultimate collection of Western Australia's finest nuts. The Serpentine Falls will provide you and your family a peaceful and natural experience. If you are a person who likes to walk, you should visit the Halls Head Walk where you can experience the beauty of the coastline.

Mandurah city also contains a number of fine golf courses like Meadow Springs, Secret Harbour, The Cut etc where you can show off your golf skills. The place is also famous for its rich and various types of wineries.
How to get there

It is one of the largest cities in West Australia so you can reach it very easily. Perth to Mandurah by train from the Perth Underground Station takes less than 50 minutes. A regular free shuttle bus service operates from the Mandurah train station to take you to the Mandurah foreshore area.

Please share your thoughts on what you enjoyed the most when you last visited Mandurah.