Details

Category: Day Trips
Last Updated: Monday, 20 December 2010 08:05
Published: Monday, 13 December 2010 13:09
Written by Sadhbh Warren
If you've ever organised a family day out, you'll understand my Dad's terror at looking out the window and seeing rain. You can plot for a perfect day with the kids all you want but your plans are always at the mercy of that most fickle of things - the weather.

And come the morning of our long-awaited family trip to see dolphins and penguins and seals (oh my!) his fear is realized and the formerly flawlessly azure Perth sky has a severe case of the sniffles. Penguin Island is one of WA's most lovely ecotourism destinations, located a five minute ferry ride from Rockingham. It's known for white sandy beaches and the marine life of the Shoalwater Islands Marine Park, but will it be so lovely on a cold and rainy day with the kids?

Of course, the kids in this case are myself and my older sister who – being in our thirties – should be expected to handle bad weather with more grace and less whining, but my dad isn't taking chances. Someone else is doing all the organising. He has organized a Rockingham Wild Encounters tour for us but, at just 45 minutes drive from Perth city centre, Rockingham is an easily accessible day out. You can pick and choose from lots of different activities and today we're braving the rain today to try and fit in the lot.

Once you hit the coast, your first option is dolphin watching on their rigid hull inflatable boat or RHIB. RHIB's are high performance vessels - described as the 'four wheel drives of the sea' – and "100% Wild" combines safety with high speed. If you are worried about getting wet, the boat equips you with ponchos - not those thin plastic bag ones either, but massive heavy things that look like they could be comfortably converted into a watertight tent for four. We hoon around the bay and some dolphins even join in – the cruise boasts a 99% dolphin sighting rate, and the dolphins that ride the waves at the prow of the boat certainly seem to be enjoying themselves. We're wet when it ends, but the ponchos have kept us toastier than you'd think for two hours frolicking in the rain.

You can also opt to get really wet and actually swim with the dolphins. It's an unforgettable experience but make sure you do it in dolphin season (usually November to March) or it could be more swimming with other dolphin swimmers and one dolphin singular.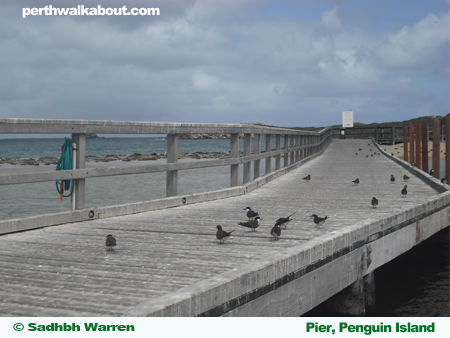 Once off 100% Wild, the weather improves a little; enough to let us enjoy the half hour stroll around Penguin Island's network of boardwalks built to avoid damaging the nesting sites of the 600 pairs of the island's resident little penguins. The guide tells us that the warm waters at the island's front are shallow and protected, and ideal for families with children, but in this cold weather we're much more interested in the penguin feeding.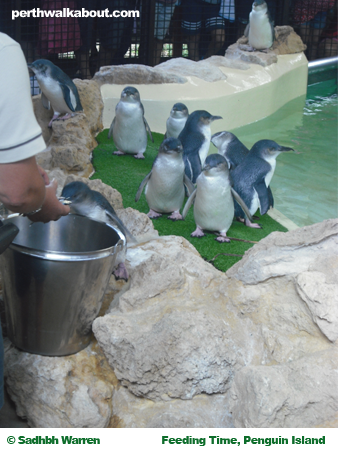 Penguin feeding happens three times daily and includes a presentation from an island ranger. It's a rare chance to get a really close look at the world's smallest penguin. They don't come here for the food, plentiful as it is, though; the centre has dual purpose as an educational facility for tourists and a sanctuary to care for injured wild penguins or those unfit for release, including birds that are badly injured or orphaned as chicks. The housing area includes a saltwater pond with perspex viewing panels to watch them swim, although the ones that we see seem mainly interested in the fish, queuing up neatly and taking their turns to eat quietly and with no fuss.

My father mutters something pithy about wishing my sister and I would do that but we're too busy arguing over the dry spot on the picnic bench and who gets which sandwich.

We've just dried out by the time we go on our last excursion, the Penguin & Sea Lion Cruise, a 45 minute cruise in a glass-bottomed boat visiting the nearby seal colony and taking in some of Shoalwater Bay. Despite the fact the boat is covered, this is the wettest we get – in the rough weather, the glass bottom boat pitches and lurches, and spray occasionally drenches us as we try to get a good picture of the pelicans. Still, it's not enough to stop us enjoying giggling at the fat-bellied seals and certainly not enough to ruin a great day out.

You may also enjoy reading Perth Walkabout's article about the Aquarium of Western Australia (AQWA) titled Jellyfish and Ice-cream at Hillary's Boat Harbour.