Details

Category: Day Trips
Last Updated: Wednesday, 20 July 2011 09:17
Published: Wednesday, 09 March 2011 16:46
Written by Vicki Sly
Tripping out of Perth for the day doesn't mean you have to sit in stressful traffic for hours on end; there are some great things to see and do within a short drive from the city centre.

When planning a day trip from Perth, the biggest decision will be which direction to head – north, south, east and yes, even west.

Your direction will depend on what kind of things you like to do to relax: surf and sand, a walk in the bush and a love of all things natural, sightseeing and shopping or just eating and drinking.

North

An hour's drive north of Perth is the small fishing town of Lancelin which is world famous for windsurfing but just as popular for swimming, surfing and boating. There are also a large number of wrecks along the coastline so it is a great place for divers to visit.

To the east the town is surrounded by powder-white sand dunes which are popular for sand boarding and riding dune buggies and motor bikes.  The dunes look like snow in the middle of a desert so make a great photo opportunity.

South

One of the easiest escapes out of Perth is a 45-minute drive down the freeway to the aquatic playground that is Mandurah; a great place to hit the beach or the golf course.

One of the biggest events on the calendar each year is the Mandurah Crab Fest which takes place in early March and sees tens of thousands of people flock to the area.

You don't have to visit the festival to try Mandurah's famous blue swimmer crabs, just pick up a couple of nets and give crabbing a go yourself. Make sure you check with the Department of Fisheries for bag limits and seasonal closure times to be on the safe side.

From Mandurah you may wish to continue south along the coastline to the small hamlets of Myalup and Binningup. Both have clean beaches which are great for swimming and fishing.  They are well kept secrets so you won't find bustling crowds or a great range of shops so pack a picnic lunch in advance.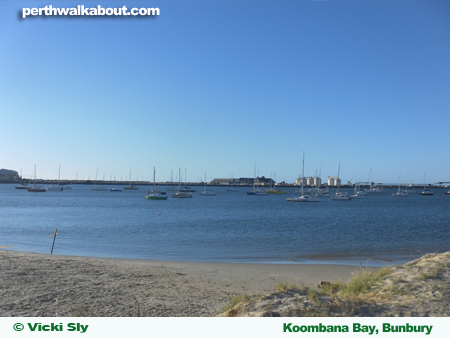 Just south of Binningup and a full 45 minutes on from Mandurah is the city of Bunbury which has a lot to offer day trippers. Where once tourists use to bypass Bunbury on their way to Margaret River wineries and surf, the city has now forged a reputation for itself as a place to visit.

One of its most popular attractions is the Dolphin Discovery Centre which is the first of its kind in Australia and guarantees wild dolphins will come and say hello most mornings.

The city is surrounded by the Indian Ocean, Koombana Bay and Leschenault Inlet so there is plenty to do for water babies.  Bunbury also has a great café strip in Victoria Street and a new-look waterfront with a huge choice of bars, cafes and restaurants.  The city also has a wonderful regional art gallery.  All of these facilities are in walking distance of each other so it's just a matter of finding somewhere to park and walk.

East

Head to the hills!  Drive 30 minutes east of the city and you will find yourself in the Perth hills. This is the perfect destination for people who love to get physical with over 40 walking and cycling tracks on offer.

The area is also famous for its 10 national parks and there are several small villages spotted through the hills and many are home to artists so you are bound to come across a gallery or two.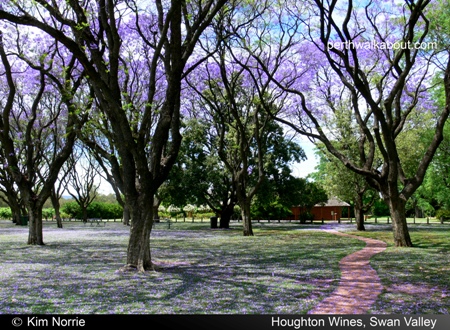 If you decide to head north-east, a short 25-minute drive will take you to the heart of the Swan Valley, Western Australia's oldest wine growing region as well as the closest wine region to any city in the world.

The region also happily calls itself the "Valley of Taste" and with 150 places to wine and dine, the hardest task will be deciding where to start, and when to stop.  Don't forget to appoint a skipper (non-drinking driver) if you intend to spend a day touring the wineries and breweries that populate the valley.

Like the Perth hills area, the Swan Valley is also rich with artists and galleries so art lovers should plan some stops in their day trip.

West

What can be west of the west coast of Western Australia?  Our own island getaway called Rottnest Island that is 19 km off the coast of Fremantle!  This is a great day trip from Perth and you can get there via ferry, boat, plane or helicopter depending on your budget and your time frame.

Rottnest Island is an A Class Reserve with protected flora and fauna so nature lovers are in for a treat. The quokka, a pint-size marsupial, is native to the island and bound to win a few hearts.

Do you have a favourite day trip you would like to tell us about?
Add your comment below.

Other Perth Walkabout Articles
Put A Spring in your Step and head to the Swan Valley

Take a Day Trip to the Premiere Coastal City of Mandurah

Day Trip or Long Stay - Be Charmed by Rottnest Island

More Perth Day Trips