Details

Category: Day Trips
Created: Friday, 24 June 2011 11:51
Published: Friday, 24 June 2011 11:51
Written by Nita Teoh
One great thing about living in Perth is that if you feel like a quick break or get away "down south", you are always spoilt for choice. Visitors to Perth on their grand tour of the south west of Western Australia will often take the typical tourist route by heading to Mandurah, passing through Bunbury, and then visiting the popular towns of Margaret River, Pemberton and/or Albany.

Mandurah is a coastal town that has seen amazing growth in the last few years, and is popular amongst migrants from the UK to settle in.

If you are a connoisseur of great wine and food, then you will likely to be dropping in to Margaret River at some point of your stay in Perth for that perfect tipple or two.

Albany is set in a beautiful location by the coast, and I always feel like I am on an island when I visit there. Speaking to a Scottish friend, she said that her and family loved visiting Albany because it reminded them of their home in Scotland.

Closer to home near Perth is Preston Beach, about 20 minutes away from Mandurah by car. It's a little coastal seaside town, one of many that you'll find tucked away along the Western Australian coast as you head south.

Some enjoyable things to do in Preston Beach include the following:

Preston Beach

Preston Beach has a fantastic beach that stretches for miles on end, and if you feel like claiming a spot of the beach for a few hours to enjoy the surf, sunbake, or take a walk, then Preston Beach is a beaut spot to hang out. On the day I visited the beach with my friend, the weather was perfect with blue skies and a warm sun. There were a few people walking along the beach and playing with their dog, but all in all, we pretty much had the beach to ourselves. There is a car park which provides easy access to the beach, along with some toilet and picnic facilities, so this would make an excursion to the beach a great day out for the family.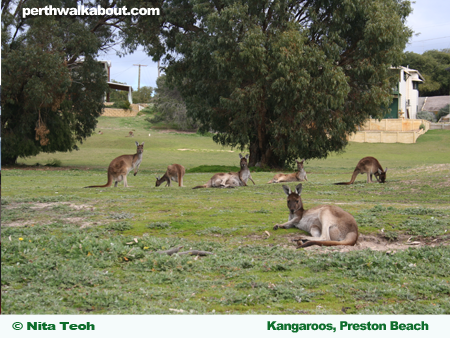 Spotting Kangaroos near Lake Preston

The walk around Lake Preston turned out to be a little gem tucked away in suburban Preston Beach. To my surprise, we met up with more than a few friendly kangaroos (locally known as "kangas" or "roos") along our walk. It was a pleasant up close and personal encounter with the kangas, and there were literally dozens of them bounding across the field.

Actually, if truth be told, I think the kangas were feeling a bit lazy as we found them whiling away their day relaxing in the sun or shade, and just doing their thing and pottering about. My theory is that it was morning or afternoon tea time for the kangas!

If you are a visitor to Perth, and would like to see some kangaroos up close and personal, head to Preston Beach to view the kangaroos. It's best not to try and pat them or get too close, as they can get vicious if provoked. Look but don't touch is the motto here.

Preston Beach is also located next to the popular Preston Beach Golf Course. So if you fancy sinking some balls in a few holes on the Preston Beach Golf Course, do take care to mind the roos as I don't fancy that they will enjoy being clobbered in the head by a golf ball.





Yalgorup National Park, Heathlands Trail and Other Trails

The Yalgorup National Park is located in Preston Beach, and makes for an easy bush walk near the surrounds of a pleasant lake. We decided to tackle the Heathlands Trail, a walk of several kilometres, and also walked a bit further along another trail running alongside the lake. It was enjoyable to watch the bird life on the waters of the lake. Take plenty of water and some food supplies, no matter what type of walk you are planning, because it's very easy to lose your way in the bush. We nearly got lost, (as all trails look the same when you are in a hurry and it is getting dark!), but thankfully we managed to find our way back to the car safely.

Accommodation

Preston Beach has a mixture of private and self contained holiday accommodation. The Footprints Preston Beach Accommodation has modern facilities and is well equipped. Adjacent to the accommodation is an on site café which is open most nights, and a small deli for provisions. It is best to bring your own supplies from Perth, as Preston Beach is not equipped with a huge range of supermarket facilities or eateries.

All in all it was a pleasant and quick get away down south, and we found Preston Beach to be a great location for chilling out, relaxing and taking it easy. If you don't fancy driving several hours or more to get to your destination in the beautiful south west coast of Western Australia, then Preston Beach is a great little seaside location that's still close to Perth but just right for a fantastic weekend away.

Other Perth Walkabout Articles

A Relaxing Holiday in
Picturesque
Jarrahdale

Bitten by the Rottnest Island Bug

Lancelin Rocks for Sand Boarding

March of the Mini Penguins at Penguin Island