Details

Category: Day Trips
Last Updated: Wednesday, 12 January 2011 09:29
Published: Friday, 17 September 2010 13:42
Written by Sadhbh Warren

Rottnest Island – Rotto to its friends – has a well justified reputation as a day-tripper paradise. At just 25 minutes from Fremantle, 45 minutes from Hillarys Boat Harbour, or 90 minutes from Perth's Barrack Street Jetty, it's a short and enjoyable boat ride to the stunning beaches, nature reserves and cheeky quokkas of the island.

And Rottnest makes it easy to enjoy what it has to offer; with the Visitor Centre being the first building you see when you land, booking your trip and finding information child's play – even when you have small children with you. Restaurants and cafes, including waterfront seafood dishes at Aristos and delicious pastries at the Rottnest Bakery, are just a minute's walk away and a cool beer on a hot day can be yours at the nearby Hotel Rottnest without any need to get exploring.
But it would be a shame to miss Rottos many charms, despite the numerous distractions of the shops and eateries of Thomson Bay. The first Europeans certainly failed to notice much about it. When they started sailing by, they named it Maidens Isle. The name didn't take, probably due the lack of any inhabitants, female or not.

When Dutch sailors passed the island in 1696 they mistook the fluffy hordes of Rottnest's infamous indigenous marsupial, the quokkas, for large rats. They named the island the far more catchy "Rattenest", meaning "rat's nest" in Dutch. This moniker stuck despite the lack of accuracy. Rotto lovers shouldn't get too upset; sailors are also notorious for mistaking blubbery dugongs for voluptuous mermaids and mistaking homebrew for a pleasant beverage. Probably at the same time.
It's safe to say that Rattenest was not the most popular of destinations, for day-trippers or otherwise. It would be 1830 before settlers were attracted to the island - not by the idyllic surrounds but by the salt deposits. Far from being a vacation paradise, Rottnest was a place that people were sent to as punishment. It has been used as a prison and interment centre on numerous occasions; for Aboriginals at various times between 1838 and 1904, and for German, Austrian and Italian enemy aliens during World War I & II.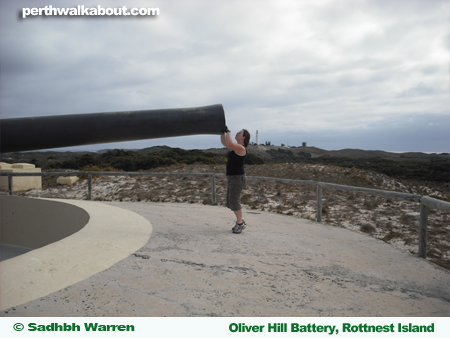 You can find out more about the island's history at the Rottnest Island Museum or those with a taste for taking your culture with a big dose of fun can catch the train to the Oliver Hill Guns and Tunnel Tour, which takes in the restored World War II 9.2 inch guns and maze of underground tunnels. There are also Eco tours and cultural walking tours, as well as the very popular option of catching the Rottnest Island Bus Service from beach to glorious beach.
The pristine beaches of Rottnest are a big draw and, with its lively reefs and a whole host of shipwrecks nearby, diving is always a popular activity there. Come at the right time and catch a crayfish (or Western rock lobster) when you dive, either by hand or by using a crayfish "Loop". The season opens on 15 November each year, and runs through until 30 June.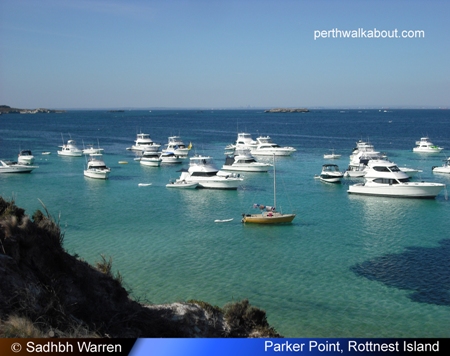 If you like the water but don't fancy the expense of a dive, there are wonderful snorkel trails at Parker Point and Little Salmon Bay. Play with the fish and read the underwater plaques and if you feel over-educated at any stage you can just head to the surface and splash in the warm waters Rottnest is know for.
And while Rottnest is also known for being a perfect place to do a spot of cycling, runners get a chance to stretch their legs usually in October of each year, when the Brooks Rottnest Marathon takes place. Organised by the West Australian Marathon Club, the proceeds from the event are donated to Channel Nine's Appealathon, and there are also 5km and 10km fun runs for those who don't want to stretch their legs to the full 42 kilometres of a marathon. 
At just 90 minutes from Perth (30 if you try a scenic flight with Rottnest Air Taxi) Rottnest is very doable as a day trip, but extending your stay to an overnight one is very worthwhile – if you can find a room. Book online, book early and remember that the island runs ballots during the January and Easter school holidays for accommodation in the 308 villas, units and cottages on the island.
Other accomodation include the recently refurbished Rottnest Lodge if you fancy a touch of luxury or the Kingstown Barracks if you're after something less expensive. The Barracks have a lot of charm, and also a lot of quokka on the lawn. I once had the joy of chasing a quokka around the kitchen there after it followed me in at 2am, and I can tell you the best way to kick out a late-night quokka kitchen crasher is to put some greens from the fridge on the floor to tempt it out from under the shelves, and grab their big butts firmly with a tea-towel.
But, late night quokka wrestling tips aside, it's easy to see why so many people decide to stay the night - Rottnest well worth a visit. Whether you stay for a day, or stay for a month, Rottnest Island will charm you and leave its mark on your heart. Just as its quokkas will leave a mark on your lettuce.

Read about more adventures on Rottnest Island in our previous Perth Walkabout article titled Bitten by the Rottnest Island Bug.