Details

Category: Environment
Published: Wednesday, 10 December 2008 09:42
Written by Nita Teoh
Environment
Perth City Farm
184 Brown Street
East Perth
Phone: 9325 7229
Opening Hours:
Monday to Friday 9am to 4pm
Saturday markets: 8am to 12pm
If you are travelling along the Armadale train line and happen to stop at the Claisebrook Station, you will get a bird eye's view alongside the train tracks of a rather extensive piece of land containing a thriving permaculture garden, sheds, wandering chickens and a rather colourful papier mache orange dragon. Somewhat of an unexpected location to find a thriving garden, this is the home of City Farm which is located in the heart of East Perth. City Farm has been in existence since 1994 and has been transformed from its previous life as a scrap metal yard to one of rehabilitated lands offering organic produce.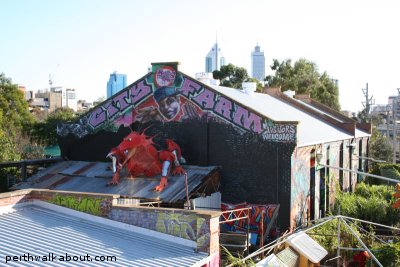 City Farm, East Perth
City Farm is a vibrant place where the community can learn about the environment, contribute their labour to the soils to tender to the thriving garden, and enjoy buying organic produce at its bustling saturday local markets. Take a wander through the gardens to view the thriving organic produce. There are also the playful "resident" chickens and roosters usually strutting their stuff.
Or if markets are your thing, the City Farm Organic Markets are open every Saturday from 8am to 12pm. Organic produce on offer includes a great range of fruits and vegetables, beef, coffee, wheat and rye, flour, dairy products, avocado oil, bread and eggs.
City Farm are always on the lookout for volunteers to help with a range of activities and events happening on the farm. Activities include feeding the animals, collecting eggs, working in the nursery,and pruning, planting or digging. Nothing like pulling up your sleeves and getting your hands dirty to work the land for a good cause.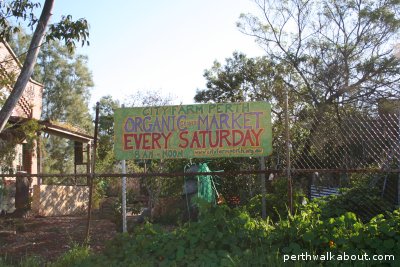 City Farm, East Perth
Keep a watch out for special events organised by City Farm on a regular basis. Events include the Street Arts, Harvest and Tomato Festival.
How to get there
From the city, catch the train to the Claisebrook Station along the Armadale line. When you disembark the train, walk up to the pedestrian bridge and when you get to the top of the bridge, turn left to head towards East Perth. As you head down the steps, City Farm is on your right. You can't miss it!
From the city, catch the Yellow CAT bus and get off at the Health Department stop. If you are catching the Yellow CAT bus back to the city, hop on at the Claisbrook Train Station stop just outside City Farm.
Coming Up
City Farm Organic Markets
Other Perth Walkabout articles
Environment House, Maylands
Cycling in Perth
Go to
Environment main page
Things to Do main page
What's New main page