Details

Category: Essentials
Published: Tuesday, 09 December 2008 15:23
Written by Nita Teoh
Visitor Information
Map of Australia
A map of Australia is provided below as a quick reference guide to location of Perth, Western Australia (WA) within Australia.
Quick Facts:
Perth is the capital of Western Australia.
Western Australia is the largest State in Australia by land size.
The land area of Western Australia is 2.526 million square kilometres which represents 33% of the total mainland area of Australia.
Australia is the 6th largest country in the world with a land area of 7.569 million square kilometres.
Most of the population in Western Australia is concentrated around Perth. Go to Quick Facts about Perth, WA and Other Perth Cities in the world.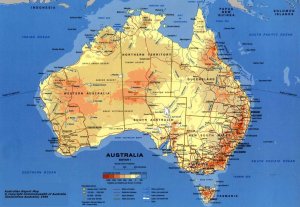 Please click on map for a larger image.
Other Perth Walkabout articles
Coming Up
Maps of Perth City and Surrounds
Go to Visitor Information main page.
Go to Living in Perth main page.
Need some information about Perth, Western Australia that you can't locate?
Contact us at Perth Walkabout and we will endeavour to answer your enquiry.
Or hop onto our Forum and chat to visitors or locals to exchange information and chat about Perth. Go to Perth Walkabout Forum.
(1) Map of Australia sourced from Geoscience Australia, Commonwealth of Australia.