Details

Category: Events
Published: Thursday, 09 March 2017 09:16
Written by admin3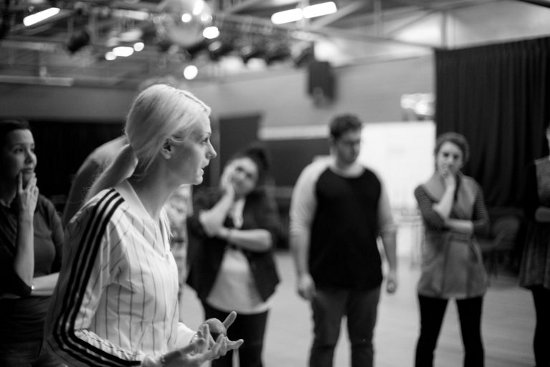 Victoria Bang
Photo Credit: Victoria Bang and Just Improvise


What tools are in your arsenal to take power when confronted by someone who ignores or blocks your ideas?
Currently visiting Perth from Sweden, Victoria Bang will be offering her special Improv Masterclass "I've Got the Power!" in conjunction with Just Improvise - a Perth based group that offers improv classes for individuals and businesses.
"Victoria Bang is a world-class improviser. Like all great improvisers she is an artist exploring what interests her while simultaneously joining her partners in play. She has great range from the graceful to the grotesque and creates images, characters and scenes that stay with you long after the show."
(Kevin Scott, The PIT - The People's Improv Theatre, New York City, USA)
In improvisation we're trained to say 'Yes' in order to create and build and share.
There is power in saying 'Yes', but what if you're improvising with someone who wants to refuse the ideas you create? Destroy the conversations and scenes you're trying to build? Take what they can for themselves instead of sharing the moment?
If you see yourself as nice and polite, struggle with confrontation and generally just don't want to make a scene (pun intended); you won't say anything, you'll continue to allow yourself to feel bad and they will continue to do what they're doing because they have no reason to change.
They may be ignorant, apathetic or malevolent, but nothing will ever change, unless you change it.
Maybe they won't change, but you can change yourself.
This four hour workshop is designed to give you the tools and techniques to show you that "You have the Power" when your scene partner consistently:
Ignores or blocks your ideas, making you feel inadequate / embarrassed / ashamed in order to make themselves look good / get laughs / win


Controls the scene by endowing your characters and their circumstances to make them victims / impotent / powerless


Prioritises their fun at the expense of your fun


Victoria Bang will help you embrace your own spirit animal, by helping you take power over yourself, the situation and anyone killing your fun.
By the end of this workshop you'll be singing "I've Got the Power" at the top of your lungs!
Event Details:
Event: Improv Masterclass "I've Got the Power!" with Victoria Bang

Date: Saturday, March 11th, 1pm to 5pm

Prerequisite: Completion of Jump - Intro to Improv

Presenter: Victoria Bang (from Sweden)

Organiser: Just Improvise HQ

Location: 162F Rokeby Road, Subiaco

Cost: $125

For more information about this event, visit Facebook Just Improvise.
If you enjoyed this article, please share it!
To find out about the hottest events around Perth, follow us at @PerthWalkabout