Details

Category: Perth Restaurant Reviews
Published: Friday, 12 November 2010 16:09
Written by Sadhbh Warren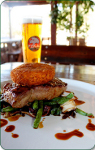 In one Australian company I worked for, the Managing Director wanted to buy the perfect gift for a past visitor and had a great idea - we would buy them a six-pack of Swan lager, which the visitor had raved over during his stay here. The only issue was that that visitor was German, and now safely at home with his bratwurst and weißbier, so getting a six-pack to them was going to cost a lot in couriering.

Not only that, but our company was based in Sydney and we couldn't find a drop of Swan in the city. Due to various licensing laws you can't just post alcohol from WA to New South Wales. We had to bribe a member of staff who was in Perth - on holidays - to take a cab from Perth airport and buy some, and bring it in their clicking hand-luggage on the plane.