Details

Category: Foodie Chit Chat
Last Updated: Friday, 13 May 2011 10:06
Published: Wednesday, 02 March 2011 19:17
Written by Vicki Sly

Australia is such a culturally diverse country that it's hard to pinpoint our national cuisine as one particular dish.

Food fusion has been a part of our everyday vocabulary and our diet for many years but unlike the Italians with their pasta, the Japanese with their sushi or the Indians with their curry, Australians are not renown for their traditional national food; but boy can we cook up a storm on the barbie!

Shrimp on the Barbie

"Slip another shrimp of the barbie" (barbecue) was a phrase coined back in 1984 by Crocodile Dundee's Paul Hogan for the Australian Tourism Commission. Because it was aimed at the American market at the time, the word shrimp was used instead of prawn. The phrase has stuck and the stereotype remains, though you will never hear Aussies talk about shrimp.

It's hot in Australia, so the outside barbecue is a popular cooking alternative to cooking in the oven and heating up the house.  Anything goes on the barbie - from seafood and steak to lamb kebabs and tofu burgers - and most Australian homes boast a barbie of some sort.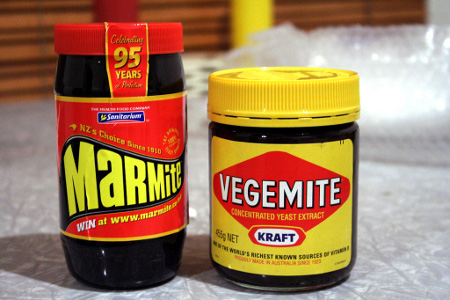 Marmite & Vegemite
Photo Credit: Flickr/AZAdam


Vegemite

No mention of Australian food can go past Vegemite – a thick dark paste made from brewer's yeast extract and various salts and minerals that is spread on bread or toast. It looks like the British Marmite but the taste is completely different and it may be an acquired taste for some but it is definitely worth a try.

Try it spread lightly on a piece of toast with butter for starters. If you go in too thick to start with the bitterness will rock your socks off and you will never go back.

Invented back in 1922, Vegemite has been around long enough now to be classified as an Australian icon and for this Vegemite kid (who has kids of her own) who was raised on the spread, it will always be a part of my daily diet.

Lamingtons

A lamington is a sponge cake covered in chocolate icing and dusted in desiccated coconut. Traditionally it is cut in the shape of a cube but the lamington roll is also a big favourite amongst the kids.

The story goes that it is named after Lord Lamington who was the Governor of Queensland in the late 1800s and was prepared by a chef who had to get creative when unexpected guests arrived and all he has was some old sponge cake.  Now why can't I whip up something like that when friends pop in?

Tim Tams

Okay, so these are just biscuits with layers of chocolate over a malt crust but they are iconic. Every visitor to Australia needs to try the "Tim Tam slam" at least once. This is when you bite off a corner of the biscuit at each end and use it as a straw to suck up a hot drink like tea or coffee. Totally decadent but loads of fun.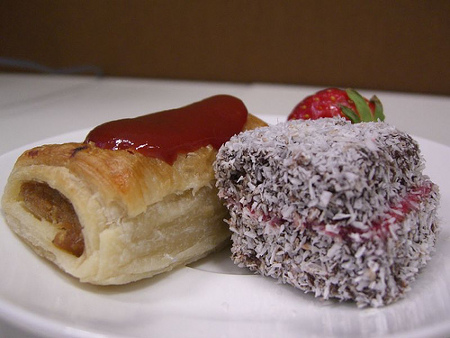 Sausage Roll and Lamington
Photo Credit: Flickr/Avlxyz

Meat Pies and Sausage Rolls

You couldn't get more traditional takeaway food than these two. The first is a small meat pie typically filled with beef served in pastry and topped with tomato sauce, while the latter is sausage meat and spices wrapped in a puff pastry. There are many variations in the fillings these days but the originals remain favourites, especially at school canteens and takeaway outlets.

ANZAC Biscuits

These biscuits have as their main ingredients oats, flour, golden syrup and desiccated coconut and they are named after the Australian and New Zealand Army Corps.

They were originally prepared by the families of Australian soldiers in World War 1 who were concerned about the diets of the fighting men. As eggs were scarce and easily spoiled, it seemed obvious to leave them out and create a hardy biscuit that was going to survive the distance.

ANZAC biscuits are best homemade so travellers or newcomers to Australia should find a recipe and give it a go, or better still, find a friend and tell them you want to experience what the ANZACs ate.

Do you have a favourite Australian food that you think we should know about?

Add your comment below.