Details

Category: Great Outdoors
Published: Wednesday, 10 December 2008 09:16
Written by Nita Teoh
Great Outdoors
Conquer the long distance Bibbulmun Track
If you are a keen bush walker, the Bibbulmun Track could be just your cup of tea. It is a long distance track of nearly 1000 kilometres from Kalamunda to Albany and passes through many different parts of Western Australia including the beautiful South West and Great Southern regions.
Depending upon your requirements and time available, you can choose to walk a short section of the Bibbulmun Track or do a longer trip with overnight camping. If you have limited time, accessing the Bibbulmun Track from Kalamunda is a recommended option. Kalamunda is approximately 24 kilometres east of Perth and should take approximately 30 to 40 minutes to get there.
The start of the Bibbulmun Track commences at the Northern Terminus in Mundaring Weir Road in Kalamunda. Note that there are various other access points in Kalamunda including Fern Road and Asher Road, and Mundaring Weir and the Perth Hills Discovery Centre in Mundaring.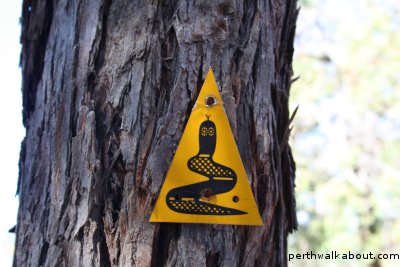 Bibbulmun Track, Waugal trail marker
If you are planning an overnight trip, you can either sleep at the Bibbulmun track huts or bring camping gear. The huts are spaced approximately every 10 to 24 kilometres and can sleep around 8 to 15 people. Note that there is no booking system for securing a bed at the hut. It is on a first come, first served basis, so it would pay to bring your own camping gear as an alternative just in case the hut is full.
Camping is allowed at the designated camp site adjacent to the huts. The camping sites also provide toilet facilities and rainwater from tanks.
Another alternative is to book accommodation in local towns where the Bibbulmun Track passes through. There are plenty of fantastic farmstays and B&B's on offer with easy access to the Bibbulmun Track.
As with any bushwalking venture, it is best to bring the essentials of a compass, first aid kit, plenty of water and to be suitably attired.
Once on your walk, you will find the Bibbulmun Track to be well sign posted. Just follow the trail markers which have the distinct Waugal symbol on a yellow arrow background. The terrain can vary markedly from flat ground to steep sections. The Bibbulmun Track Guide Books and Maps are very useful and highly recommended for planning your trip.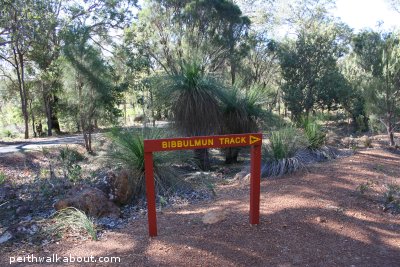 Bibbulmun Track, Kalamunda
Getting there
By car
The easiest way to get to Kalamunda from Perth is to take the Great Eastern Highway, then Kalamunda Road to reach Kalamunda Town Centre. Once you reach Kalamunda Town Centre, the Northern Terminus is on Mundaring Weir Road.
By public transport
Catch the Perth Transperth bus from the Esplanade Busport in Perth to the Kalamunda Bus Station. The trip from Perth to Kalamunda will take approximately 45 minutes. Once you reach Kalamunda Town Centre, the Northern Terminus is on Mundaring Weir Road.
Go to
Kalamunda Circuit Walk