Details

Category: Great Outdoors
Last Updated: Thursday, 03 March 2011 09:14
Published: Sunday, 09 January 2011 07:04
Written by Lee-Ann Khoh
Point Heathcote Reserve
Duncraig Road
Applecross 6153

Point Heathcote Reserve in Applecross is made up of picturesque gardens and heritage buildings, overlooking the Swan River and the Perth cityscape in the distance. Once the site of Heathcote Mental Reception Home, it is now a heritage listed open space for the public to enjoy. Challenger TAFE also has a campus on Heathcote Reserve and manages the Kitchen Building and Swan House.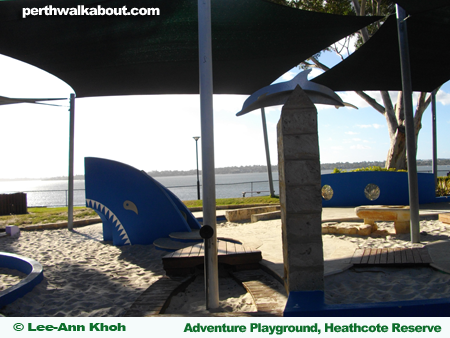 One of Heathcote's family friendly highlights is the award winning Children's Adventure Playground, an impressive piece of play equipment in the form of a replica wooden ship complete with sails. Kids can climb, slide and run all over the decks while parents enjoy the beautiful scenery with a cup of coffee from the adjacent Bluewater Kiosk. Bluewater Grill and Kiosk is a restaurant that is open everyday. It can also be booked for weddings and functions.

Various parts of Heathcote Reserve can also be booked for wedding ceremonies – its clean, beautiful surroundings and amazing views make it a highly sought-after place to exchange vows. Swan House and the Kitchen Building can be viewed by appointment (Call Challenger on 1300 300 252 to arrange a viewing). The outdoor ceremony area in front of Canning House can be viewed at any time.

Point Heathcote was named after Midshipman G. C. Heathcote, a member of Captain James Stirling's crew when he explored the Swan River in 1827. The area now occupied by Heathcote Reserve was used as a campsite during Stirling's expedition.

Today, the history of Point Heathcote is honoured through the Heathcote Museum located in Swan House. You can also arrange a tour of the site by contacting the Museums and Local History team on (08) 9364 0158.

Heathcote Reserve also exhibits the work of local artists, with a gallery in Swan House and Artist Studios in the Kitchen Building. The gallery and museum are open from 10am to 3pm on weekdays (except Monday) and 11am to 3pm on weekends. The Artist Studios are open every Sunday from 10am to 4pm.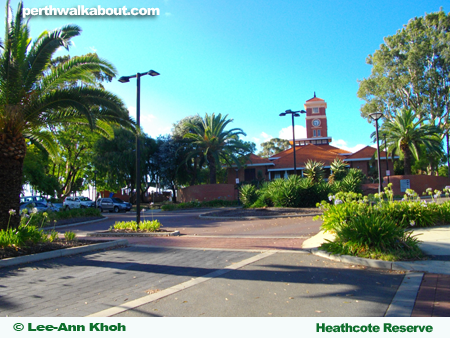 Whether you're looking for a place to hold your next function, entertain the family, have lunch or a barbeque, or just relax, give Heathcote Reserve a try.

How to get there

There are no buses stopping at Heathcote Reserve. However, if you are using public transport, you can take the Mandurah Line down from Perth Station to Canning Bridge Station. From there, it takes about 20-25 minutes on foot to get to Heathcote Reserve.

Take the Canning Bridge exit from the station by following the footpath away from Kwinana Freeway. When you come to a bicycle path (near the overpass), turn left, continuing along a pedestrian bridge in the direction of The Raffles Hotel.

When you see The Raffles, turn right into Canning Beach Road and continue to follow the scenic path along Canning River. When you see the South of Perth Yacht Club, turn left into Duncraig Road. If you continue along the footpath on Duncraig Road, you should see the entrance to Heathcote Reserve.

Other Perth Walkabout Articles:

Fun Things to do with Kids in Perth for Free

Guide to Perth Art Galleries for the Arty Farty Part One

Perth Local Area Guides