Details

Category: Great Outdoors
Published: Wednesday, 10 December 2008 09:05
Written by Nita Teoh
Great Outdoors
Parks
Hyde Park, Perth
Bounded by Vincent, William, Glendower and Throssell Street, Perth
Hyde Park is a favourite amongst locals and is situated in Perth at the backdoor of Northbridge. It is a magic park characterised by its majestic Plane trees over a century old. These lovely deciduous trees mark changes in the season from their burnt orange autumn leaves to their shedding of leaves in winter.
The park had its beginnings as part of a series of lakes named "Third Swamp" stretching from Claisebrook to Herdsman Lake. The Third Swamp was a popular camp site used by the Nyungar people up to the 1890s. The Hyde Park as we know it today was declared a public park and officially named Hyde Park in 1899.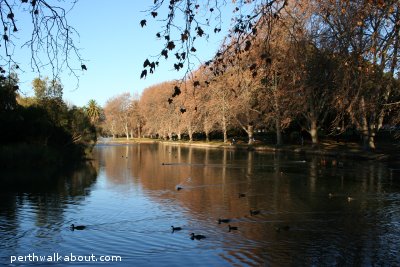 Hyde Park, Perth
Hyde Park is a nice escape from the bustling city. Jog around the park, practice your tai chi steps, walk your dog, take the kids for a burst of activity in the children's playground, blade around the path, have a picnic or BBQ, or just find a quiet corner to read a book and enjoy the sunshine. Its two lakes attract birdlife including ducks, coots, the resident pelicans, and swans. The old Morton Bay fig trees with their gnarly trunks are also a prominent feature of the park.
Spot the regulars congregating for their weekly chat about goings on in Perth or having their game of chess in the park. On the odd occasion, you might catch a glimpse of talented jugglers and other street performers honing their acts.
The artwork scattered throughout the park is also worth checking out. A mosaic water feature playground is located at the Vincent Street end of the park. The interesting bronze chessboard piece is located at the Throssell Street end of the park.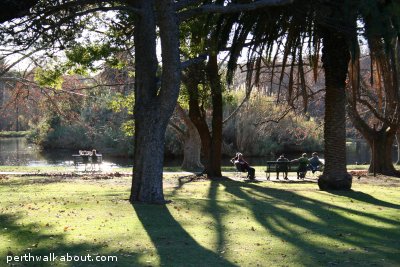 Hyde Park, Perth
Its a popular spot for weddings and photography shoots. Throughout the year, keep a lookout for all manner of festivals including the multicultural festival Harmony on Hyde and a range of music concerts and performances at the stage area in Hyde Park. The stage area is located closest to the corner of Vincent and William Street.
Need a caffeine fix? Hyde Park is in close proximity to Lake Street and the offerings of cafes and restaurants in Northbridge.
The closest cafes are Tarts on Lake Street and La Papillon on Bulwer Street. Head towards the Glendower Street end of the park for easy access to cafes in Perth and Northbridge.
Coming Up
La Papillon Cafe, Bulwer Street
Other Great Outdoor Favourites
Go to
Great Outdoors main page
Visitor Information main page