Details

Category: Great Outdoors
Published: Friday, 12 December 2008 14:14
Written by Nita Teoh
Kings Park Boab and Grass Trees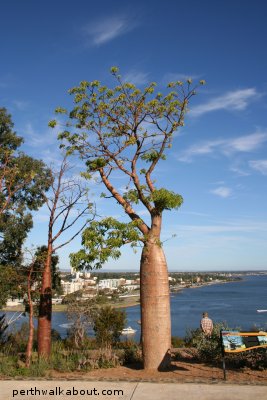 Boab Trees at Kings Park
Take a detour off the Law Walk in Kings Park to view the wondrous ancient Boab trees. What do these Boab trees look like? They have bulbous trunks that are disproportionate to the rest of their structure. They are also referred to as bottle trees and are a relative of the African Adansonia species of Baobabs. What a tongue twister!
These particular Boab trees featured in the photo to the right were transported 3000 kms from the Kimberley region, north of Western Australia all the way to Kings Park. They are mainly found in the Kimberley region and some parts of the Northern Territory.
They are used by the Aboriginals for a variety of things including food, shelter, and medicinal purposes such as for the treatment of gastric problems.
Today, in Western Australia, Boab trees are grown for commercial use and have been introduced for sale at fresh food markets and for use by restaurants in Perth.
Opportunities have transformed the harvesting of these humble Boabs for their tubers and leaves into an emerging gourmet food. Fancy a pickled Boab for lunch? They are sold in a variety of interesting forms including the use of the tubers for chutneys and pickles, Boab fruit for jams, and fresh leaves that can be used in salads.
Grass Trees
Native Grass trees can be viewed at the Balga Lookout from the LotteryWest Federation Walkway. A species of the Grass tree are also referred to by the Noongars as Balga trees. The Grass tree has used by the Aboriginals for a myriad of purposes including to make fishing spears, for materials to build a shelter, as a sweet drink from the flowers, and to make glue. The glue is made from a combination of its resin, kangaroo droppings and charcoal.
After a fire, grass trees are renowned for producing an abundance of seeds and flowers. Grass trees grow very slowly, only around a few centimetres each year.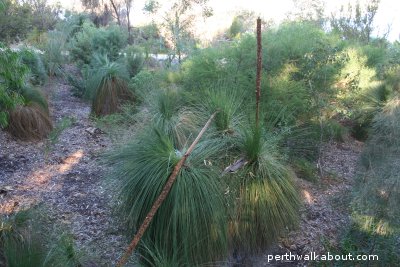 Grass trees at Kings Park
How to get there:
Boab Trees
Follow instructions to get to the Law Walk and you will see the Boab trees by taking a slight detour from the Law Walk.
Grass Trees
Follow instructions to get to the LotteryWest Federation Walkway and view the Grass trees from the Balga Lookout.
Other Favourites at Kings Park
LotteryWest Federation Walkway
Coming Up
Bush trails in Kings Park
Go to Kings Park main page.