Details

Category: Great Outdoors
Published: Friday, 12 December 2008 14:12
Written by Nita Teoh
Great Outdoors
Favourites at Kings Park
Kings Park Law Walk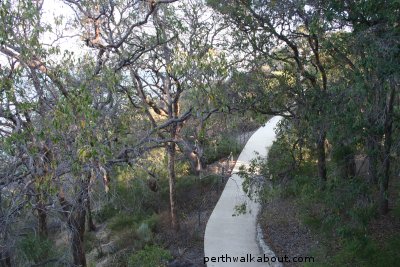 The Law Walk, Kings Park
The Law Walk is a popular walk in Kings Park and can be combined with visiting the LotteryWest Federation Walkway as it is on the same side of the park.
It is easy to moderate in difficulty and can be accessed via several entry points. One starting point is to commence the walk at Rotunda 1. The easiest way to locate Rotunda 1 is to head towards the State War Memorial and follow the river path along the Mount Eliza Escarpment till you see the Law Walk sign.
The walk is 2.5 kilometres and will take you approximately 40 to 50 minutes to complete the loop depending on your pace. There are some steep sections of the walk but the path is well marked and easy to walk.
You may wish to take short breaks along the way to view scenery and points of interest. If you are lucky enough, you may also spot some wildlife along the way. The lime green Port Lincoln parrots, often referred to as 28's in the South West of Western Australia, can sometimes be spotted or rather heard along the Law Walk. They do make quite a ruckus whilst feeding! See photo below of parrots spotted along the Law Walk. Another nice detour off Law Walk is to check out the Boab trees.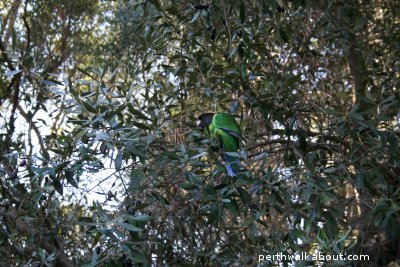 "28's" parrot along the Law Walk, Kings Park
How to get there:
Once you are at Kings Park, head towards the State War Memorial just off Fraser Avenue. Once you reach the State War Memorial, you should be able to see Rotunda 1. Look out for an orange roofed circular building structure which is Rotunda 1. Follow the path for a short distance with the Swan River and Mount Eliza Escarpment on your left till you see the Law Walk sign.
Other Favourites at Kings Park
LotteryWest Federation Walkway
Coming Up
Bush trails in Kings Park
Go to Kings Park main page.