Kings Park Walkway
Details

Category: Great Outdoors
Published: Friday, 12 December 2008 14:11
Written by Nita Teoh
Fancy Being High Up In The Tree Tops?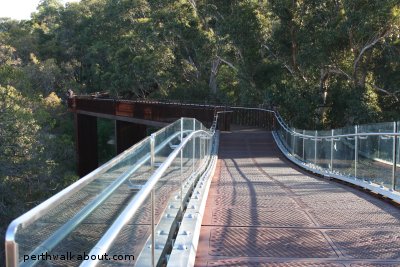 LotteryWest Federation Walkway, Kings Park
Do you fancy being high up in the tree tops? The LotteryWest Federation Walkway was opened in August 2003 and has become a very popular attraction of Kings Park.
The Walkway is open 9am to 5pm daily and entry is by gold coin donation.
The Walkway is an easy 30 to 40 minute return walk high up in the Eucalypt treetops. Take the time to stop at the various lookouts along the way including the Mount Eliza Lookout which has nice views of the Mount Eliza escarpment.
Further along on the Elevated Walkway bridge, enjoy views overlooking the Swan and Canning River, the historical Swan Brewery Building and South Perth. Being 16 metres up, you also get a bird's eye view of other parts of Kings Park.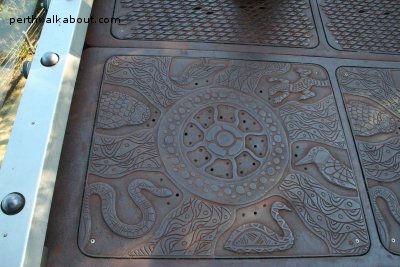 What creatures can you spot?
LotteryWest Federation Walkway
In the Aboriginal Dreamtime, according to Noongar culture, the Waugal "the rainbow serpent" is said to have created the hills, rivers and lakes and distinctive geographical features as we know Perth today. The pavement motif on the left depicts a Waugal, Black Swan, goanna and other birds. The body of the Waugal is said to be represented by the Darling Scarp, which lies to the east of the Swan Coastal Plain.
How to get there:
Drive down Fraser Avenue the main entrance of Kings Park till you reach the Fraser Avenue roundabout. The landmark to watch out for is the Lord Forrest Statue at the roundabout. The closest carpark to access the Walkway is the Forrest car park.
Other Favourites at Kings Park
Coming Up
Bush trails in Kings Park
Go to Kings Park main page.