Details

Category: Great Outdoors
Last Updated: Monday, 15 November 2010 10:22
Published: Friday, 01 October 2010 20:33
Written by Amanda Kendle
Visitors to Western Australia quickly figure out that we like our black swans. Although not absolutely the only place in the world you might see them, we West Aussies consider black swans our own, and they grace our state flag – and you certainly won't see any white swans on your Perth travels. One of the best places to see large numbers of black swans is at Lake Monger, a wetland area slightly north of the Perth CBD. And Lake Monger has even more attractions than just its black swans, making it a great place to spend an outdoor afternoon.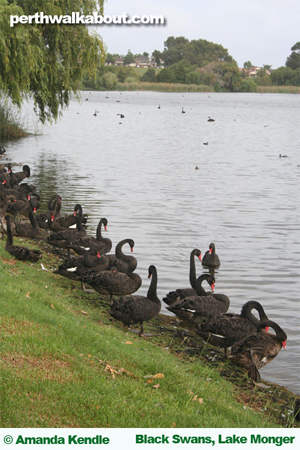 Lake Monger is large enough that you feel like you're at a big lake, but small enough that you can circumnavigate it with an enjoyable walk – at a relaxed pace and with a few stops to admire the scenery, it should take you about three quarters of an hour to follow the footpath that surrounds Lake Monger. Along the way you'll see different wetland habitats and a few explanatory signs, and make sure you take the detour into the "walking only" area of boardwalks and wooden bridges, because that's a particularly pretty spot. A small part of the path runs parallel and quite close to the Mitchell Freeway, so that's not the prettiest part of the lake walk, but it soon turns all green and natural again.

There is so much wildlife at Lake Monger that you'll realise the black swans are just the tip of the iceberg. In particular, bird watchers will love the variety of birds they can observe at Lake Monger. Beware in spring because it's not only the swans that can get a little aggressive – several kinds of birds there have certainly had a go at chasing me when I've accidentally walked too close to their nests! The swans, unfortunately, are often fed by tourists (please don't!), and that has led to occasional aggression – but keep a short distance away and you'll be fine. You can also look out for tortoises, skinks and frogs, but only keen nature observers will find them.

Another aspect of Lake Monger I enjoy is not just bird watching, but people watching! It's a great place to see the locals in action, because as well as being a tourist attraction, Lake Monger is very popular with local Perth people wanting to exercise – the multiuse path can get crowded at times with cyclists, rollerbladers, joggers and walkers – and to play, with a great children's playground in one corner of the park that surrounds the lake. On weekends an ice cream van often parks in the car park if you're looking for a special treat.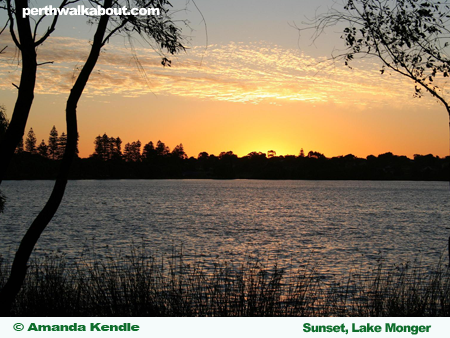 Something that even many locals don't realise (unless they're old enough to remember) is that many years ago, Lake Monger was also used for boating and swimming. But back in 1939 a young boy drowned in Lake Monger, and this apparently led to an immediate ban on boating and to swimming being a rare activity. These days the focus at Lake Monger is very much on nature and conservation, so no lake-based activities are in fact allowed. It's a "look but don't touch" kind of approach, which will hopefully conserve the lake and its wildlife for future generations and future visitors to Perth to enjoy.

How to get there
Lake Monger is easy to find: it's just a short walk from the Leederville train station on the northern Joondalup/Clarkson train line; if you're travelling by car, exit at Vincent Street.
And don't forget to watch out for birds which might want to peck your feet!

Have you had any run-ins with local animals on your travels? Let us know in the comments below.