Details

Category: Great Outdoors
Last Updated: Saturday, 13 August 2011 15:27
Published: Wednesday, 08 September 2010 10:22
Written by Vicki Sly

Perth's beaches are many and varied and amongst the best the world has on offer. Perth has a beach for everyone; be it serious swimmer, skimpy sunbather, grommet surfer, people watcher, crowd dodger, dog lover or beach babe. The choices are endless.
Perth's coastline serves up the clear blue Indian Ocean on powder white sand and boasts more than 20 spots to try so you are bound to find a favourite in time.
Sun, sea, surf, sand, seagulls or solitude?
Beaches like Scarborough, Cottesloe, City and Trigg are all iconic, popular and busy but in between there are a host of other beaches that are less well known but just as spectacular and worth checking out.


Cottesloe Beach has to be one of the most famous beaches in Western Australia, if not Australia. The streets to the beach are lined with Norfolk Pines and grass tiers lead down to the sand, which is normally covered in baking bods checking out the scene.
Cottesloe is great for swimming and people watching, as well as surfing and fishing from the groin just south of the main beach. There are plenty of eateries and cafes to grab a bite and the local pub is the perfect place to enjoy a sunset drink.
A favourite walk amongst the locals is from the Cottesloe car park south, past the surfers at the cove, onto Dog Beach and as far as the Leighton railway bridge, then back again. Walkers and joggers can take the beach or the footpath at the top which extends all the way to Leighton and Port Beach just north of Fremantle.
Leighton Beach is great for swimming and surfing, particularly for the very young and beginners. It is less crowded than the more famous Perth beaches and at the northern end has an animal exercise area so it has a bit more flexibility for a family and dog lovers.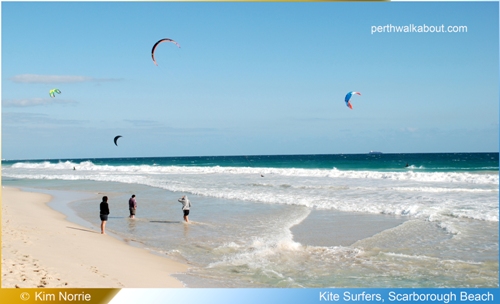 Just north of Cottesloe are Swanbourne, Floreat and City Beach which are all less crowded. Floreat Beach is great for the kids and has a wonderful playground area, while City Beach is a swimming favourite amongst the locals during the day and a popular fishing spot at night. Swanbourne is famous for other reasons, namely the lack of clothing that is required when visiting this beach.
For the cool teens and cruising backpackers, Scarborough Beach is the place to be seen. It is located 20 minutes north-west of central Perth and is popular with surfers, be they kite, wind, body board or regulars.
Don't forget to swim between the flags on Scarborough Beach. These are patrolled by one of Perth's biggest surf lifesaving clubs - Scarborough Surf Lifesaving Club – which you can see in action on Sunday mornings between October and March.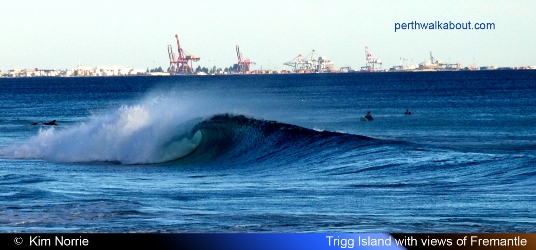 Head north from Scarborough via the cycle path and you will hit Trigg Beach. Trigg is famous for its gnarly surf break and rocky outcrops so surfing here tend to be for the more experienced.
Just north of Trigg is Mettam's Pool – an ocean pool sheltered by the surrounding reef break. Mettam's is perfect for youngsters and the young-at-heart and a great place to snorkel without the threat of constant waves. Kids will love the chance to explore the rock pools so don't forget some protective reef shoes.
Come winter and Mettam's Pool changes face to become a surf break for the locals and surfers who know what they are doing. Get it wrong and the reef is waiting!
Still heading north up the coast, you will find Sorrento Beach and Hillary's Marina. Both of these locations are great for families as they offer safe and calm swimming with grassy picnic areas and the options of cafes and restaurants nearby.
Hitting the beach in Perth means being prepared so make sure you pack the hats, sunscreen, some cover-up clothing, snorkels and goggles and plenty of water.
Have a favourite Perth beach secret that you are willing to share? Or, perhaps a beach warning that non-locals might need to know about?

We would love to have your feedback about your favourite beaches in Perth, so please add your comment below.