Details

Category: Great Outdoors
Last Updated: Tuesday, 15 February 2011 11:04
Published: Sunday, 28 November 2010 02:11
Written by Lee-Ann Khoh
Piney Lakes Reserve
Cnr Leach Highway and Murdoch Drive
Winthrop

Piney Lakes Reserve is a peaceful and beautiful 68-hectare space for conservation and recreation, located in the southern suburb of Winthrop. 50 hectares of native bushland and wetlands occupy the northern and western parts of Piney Lakes.

The southern and eastern ends of the reserve are made up of developed parklands, with the focal point being the sensory playground and adjacent lake off Murdoch Drive. Piney Lakes is ideal as a family friendly picnic and play area, with lots of clean open spaces and paths for walking, jogging and cycling.
Since 2001, the reserve has also been home to the Piney Lakes Environmental Education Centre, located near the Leach Highway entrance between Riseley Street and Murdoch Drive. Open 9:30am to 3pm on weekdays (excluding public holidays), this unique facility works to create an understanding in schools and the wider community about sustainability in the modern world.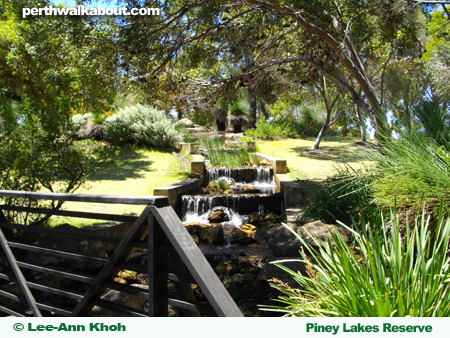 The Education Centre building itself demonstrates the latest in sustainable building design and renewable energy. It generates most of its energy from the sun and wind, and makes use of groundwater bores and rainwater – functioning without the need for artificial lighting, heating, cooling. Here you can find out how to do your bit to save energy (and ultimately money!).
The Environmental Education Centre also offers workshops, seminars and tours of the centre and the bushland/wetland conservation area. These include the Piney Lakes Nocturnal Discovery Walks that are run at various times of the year by volunteers. The Discovery Walks provide visitors with the chance to "meet" the native wildlife that calls Piney Lakes Reserve home, including frogs, bandicoots and bats. Bookings are essential. Phone (08) 9364 0791 during office hours for more information about the Discovery Walks or any other programs being run by the Centre.
Noongar Aboriginal people of the Beeliar group have a strong connection with the area occupied by Piney Lakes. It is a particularly sacred place for Aboriginal women, who gathered and performed ceremonies there. Visitors to Piney Lakes can take a self-guided tour along the Bidi Katitjiny Aboriginal Women's Trail and find out more about the area's natural plant and animal resources, by following a brochure that is available at the Centre.
The Environmental Education Centre also contains two function rooms, an amphitheatre and a wet laboratory that are available for hire.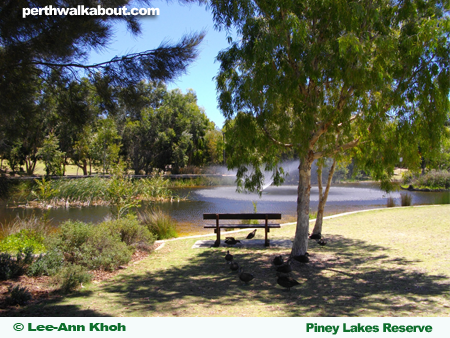 How to get there:
From Perth Underground Station, take the Mandurah Line to Bull Creek. There are a number of buses you can catch to Piney Lakes from Bull Creek Station. The 504 (which goes from Bull Creek to Murdoch Station), 501 and 502 (both from Bull Creek to Fremantle Station) all stop along Leach Highway after Murdoch Drive. This is near the Leach Highway entrance of Piney Lakes, where the bush areas are.
Alternatively, it is roughly a 15 to 20 minute walk from Bull Creek Station to Piney Lakes Reserve. Simply head west along Leach Highway (towards Booragoon Lake and Riseley Street). There is also an entrance via Murdoch Drive at the eastern end of Piney Lakes, which is close to the sensory playground. If you are walking from Bull Creek Station, you can turn left into Murdoch Drive and keep walking down if you wish to use this entrance.
Please check out our other Perth Walkabout articles on the Great Outdoors.