Details

Category: Great Outdoors
Last Updated: Friday, 22 April 2011 08:39
Published: Saturday, 02 April 2011 01:44
Written by Lee-Ann Khoh
Point Walter Reserve
Point Walter Road/Honour Avenue
Bicton 6157


If you're looking for a fun or relaxing day out with family and friends, it's worth paying a visit to Point Walter Reserve.
Spanning about a third of the southern riverside suburb of Bicton, Point Walter has something to offer people of all ages.

When I arrived on the foreshore at Point Walter to take advantage of the pleasantly warm weather, I was greeted with a tantalising aroma emanating from the barbeque. There were a few boats on the water, while others had brought a picnic, complete with folding chairs and eskies of cool drinks to enjoy under the sun, or in the comfortable shade of the native trees.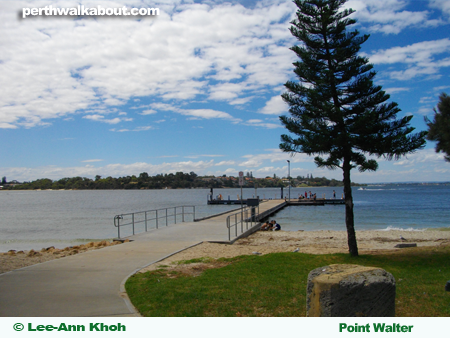 Fishing and swimming are also popular activities at Point Walter, and there were plenty of people on the jetty. There is also a sandbar that extends about a kilometre into the river, and some like to fish from this spot. Many people also enjoy walking along the sandbar, but be wary: parts of it are often submerged, and the drop into the water where boats cross and the bank ends can be quite deep. You can also take a stroll or cycle along the paths into Bicton or have a seat on the grass or one of the benches provided, and soak in the scenery. Western Australia's famous black swans seem to have a great time on the river and its banks, and I even spot one that seems to having a nap on the grass.

Feeling peckish and didn't bring a picnic? No problem. Open for breakfast and lunch seven days a week (as well as dinner on Friday and Saturday evenings), Walter's River Café – right next to the kids' playground – was doing a roaring trade that afternoon. And why not, when your meal or coffee break overlooks the river on such a beautiful day? This fully licensed restaurant also caters for functions, including weddings and parties.

If you fancy yourself as a golfer, you simply can't beat the stunning river views you'll get on the greens and fairways of Point Walter Golf Course. If tennis is more your style, there are grassed tennis courts that can be booked too.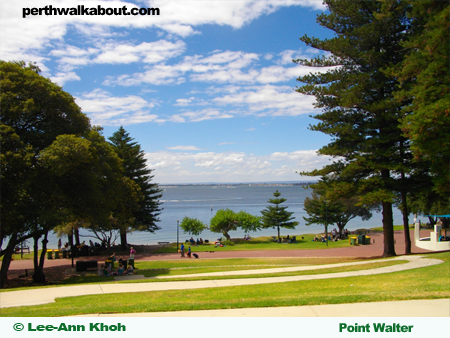 Point Walter also has a number of clean outdoor spaces that can be booked for weddings and private functions. When they're not being reserved, however, everyone else is free to use the space.

Sir James Stirling, the first Governor of Western Australia, named Point Walter after his older brother Walter Stirling in 1827. The Aboriginal name for the area is Dyundalup, which is Noongar for "place of long white flowing hair" – a reference to the white waves that crash onto the sandbar. Along with the wider Swan and Canning River systems, the Point Walter area has great historic, cultural, economic and recreational importance to Perth and Western Australia.

How to get there

There are no buses that stop at Point Walter. If you are catching public transport from Perth Station, take the Mandurah Line down to Canning Bridge Station. From Canning Bridge, catch the 148 or 158 bus route (Como to Fremantle Station), stopping at the first stop after turning into Roberts Road (Roberts Road after Wichmann Road). When you get off the bus, walk up Roberts Road (towards Wichmann) until you get to Burke Drive. Turn left and continue onto Carroll Drive until you reach Honour Avenue, which runs through Point Walter. Turn left to get to the golf course and right to the main foreshore area.

Alternatively, you can turn left at Wichmann Road, then right at Stock Road and left at Reserve Street. Walk along Reserve Street until you get to Strain Street. Turn right into Strain Street, following the road as it winds left and becomes Ledbrooke Street. You will soon reach a junction, where the street is Point Walter Road on your left and Honour Avenue on your right. Turning right and following Honour Avenue takes you into Point Walter. You will pass the Point Walter Golf Course first, and eventually reach the foreshore area.

Other Parks and Reserves around Perth


Kings Park, West Perth

Piney Lakes, Winthrop

Heathcote Reserve, Applecross