Details

Category: Great Outdoors
Last Updated: Friday, 22 October 2010 06:18
Published: Tuesday, 12 October 2010 16:20
Written by Christofer Gustavsson
Queens Gardens
Corner Nelson Crescent and Plain Street,
East Perth WA 6000


Perth is a very interesting city filled with many beautiful places that you can visit. Queens Gardens, located on the edge of the CBD, is a tranquil and pretty park nestled in its own quiet corner. Despite being very close to the city, it manages to retain a sense of peace. You can enjoy a quiet morning walking through the park with your family and friends or have a picnic lunch with your friends.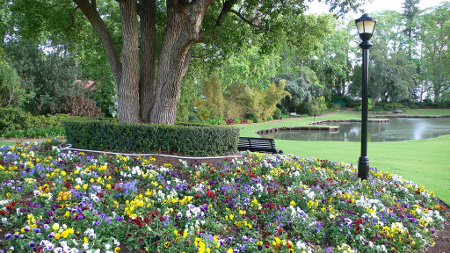 Queens Gardens, Perth
Photo Credit: Flickr/Superturtle


Queens Gardens started out as a commonage that was first used for horse racing and duck hunting, then as a clay mine and brickworks in the late 19th century. The brickworks were abandoned because of difficulties, and the Mayor, Alexander Forrest, decided to transform it into a park. The park was opened as Queens Gardens in 1899 and is still very popular with the people of Perth today.

Queens Gardens of today brings to mind similar parks in England. The combination of the verdant green grass, small lakes filled with lilies, trees, flower beds and bridges paint a stunning picture. The park is famous for its aesthetic value. It is also famous for the wide variety of bird life that you can see there. Black swans, Willie wagtails, dragonflies, local birds and occasional storks can keep any amateur birdwatcher enthralled for hours. It is also a must-visit for photographers who will be able to capture some superb pictures of nature in full bloom.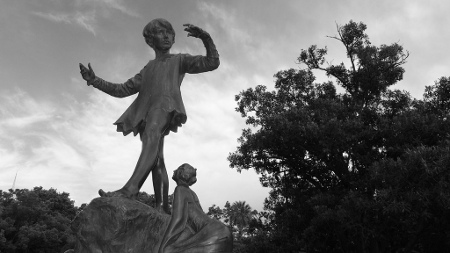 Peter Pan Statue, Queens Gardens, Perth
Photo Credit: Flickr/Superturtle


A very special feature of the park is the Peter Pan statue which was a present to the children of Western Australia in 1927 by the British Government. It is a replica of one made in England and is signed by the iconic author of the Peter Pan series J.M Barrie. The tall, gleaming statue is a wonderful treat for all children who you can keep occupied by telling them the tale of Peter Pan.

Queens Gardens, being a beautiful place, is a popular destination for weddings. Many people have had dream weddings in Queens Gardens, which can be hired for a nominal price. You can have a quiet peaceful ceremony by the water, in the midst of tranquil beauty, and you can be assured that your guests will have as wonderful a time as you. A gazebo has been built in the park and there are many shaded areas so you don't have to worry about a shelter.

Queens Gardens has seating facilities, a drinking fountain and public toilets. The wrought iron fence cuts off the rest of the city, and it makes for a comfortable world in the midst of the hustle and bustle of the city.

How to get there

Queens Gardens is located on the outskirts of the Perth CBD. Take an easy stroll or catch the free Red CAT bus service to get there.

Please share with other readers your favourite parks in Perth by adding your comment below.