Details

Category: Great Outdoors
Published: Wednesday, 10 December 2008 09:10
Written by Nita Teoh
Great Outdoors
South Perth Foreshore
South Perth Esplanade, South Perth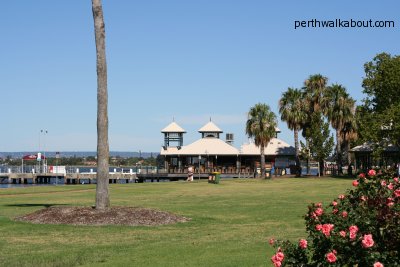 Mend St Jetty, South Perth foreshore
The South Perth Foreshore is a great destination for a day trip. The key points along the foreshore include the historical Old Mill, the South Perth Esplanade with sweeping city skyline views, and Sir James Mitchell Park.
Catching the ferry from Barrack Jetty, Perth to Mend Street Jetty, South Perth makes for a nice pleasant trip across the Swan River and convenient way of getting to South Perth.
On disembarking the ferry, there are plenty of activities around and about South Perth.
The Sir James Mitchell Park positioned between the Mends St Jetty and the Coode Street jetty is a popular spot for picnickers, walkers and cyclists.
Our leisurely use of the foreshore today contrasts markedly with early settlement which saw workers toil the land for farming. Dairy farming prevailed in the 1860's and market gardening flourished during the 1850's to 1950's. During the 1830's to 1850's, The Old Mill was the hub for the transportation of wheat and flour.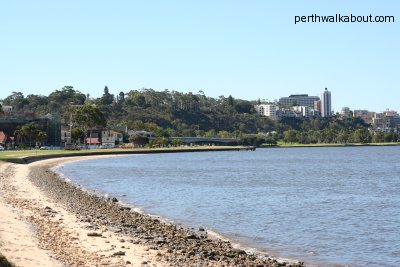 View to Kings Park, South Perth foreshore
Suggested day trips include a visit to The Old Mill which is a National Trust of Australia Property. Or maybe check out the Perth Zoo or one of the numerous cafes along the Mend Street cafe strip.
The South Perth Esplanade section of the Foreshore is a great vantage point to check out the city skyline including spectacular night views.
How to get there:
Head to Barrack Square in the Perth city and catch the Transperth ferry from Barrack Street Jetty to Mend Street Jetty in South Perth. Ferries shuttle between the jetties every 20 to 30 minutes.
Other Perth Walkabout articles
Go to
Great Outdoors main page.
Kings Park main page.