Details

Category: Great Outdoors
Last Updated: Monday, 18 October 2010 10:51
Published: Thursday, 07 October 2010 12:28
Written by Vicki Sly
Wildflowers in all their natural beauty have long been depicted in art, photography and literature. One need only look to the impressionists like Monet and Renoir for great examples of their charm.


Western Australia is synonymous with wildflowers and for several months every year the rain and sun transform what is some of the harshest landscape in the world into Mother Nature's own garden.


Wildflowers can be found from as far north as the Pilbara to the colder climes of the southern region and bloom time varies depending on temperature, rainfall and soil types but is usually sometime between July and November.


With over 12,000 species found within the state, there is plenty to see but visitors to Perth need not travel far from the city to experience beautiful blooming landscapes.


The best sources of information about what is in bloom where and when are the visitor centres that are scattered through the Perth region, so if you are planning a trip to a specific area then get in contact with them directly.


Western Australia's love of wildflowers also extends to a dedicated website for reporting on when they are spotted and where. The Wildflowers WA site is a handy source of wildflower information.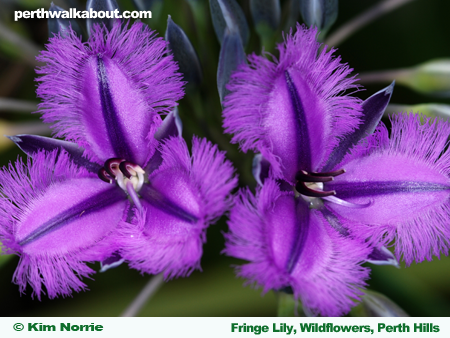 A great place to start your wildflower trail would have to be Kings Park in the heart of Perth. Each spring, the Kings Park and Botanic Garden Wildflower Festival introduces visitors to the wonderful flora that can be found in Western Australia. With 400 hectares of natural bushland and parks, Kings Park is well worth a visit any time of the year for nature lovers.


Just south of the Swan River in McCallum Crescent, Ardross is Wireless Hill Park. The park encompasses 40 hectares of natural reserve and is a great place for a picnic, nature walk and wildflower spotting.


Some of the wildflowers to be found at Wireless Hill Park include kangaroo paws, golden wattle, cowslip orchids, dancing orchids, jug orchids, donkey orchids, milkmaids and cat's paws.


From Ardross head to Armadale which is a 40 minutes drive south east of the city. Armadale is known as Heritage Country and is surrounded by parks and hills with the best places to view wildflowers being Bungendore Park, Armadale Settlers Common, Serpentine National Park and Araluen Botanic Park.


The area boasts 34 different walks and has a small booklet available from the Armadale Visitor Centre at 40 Jull Street for those wishing to don their boots and get up close and personal with wildflowers. For further information, phone 9399 0414.


If all this walking is making you thirsty, why not head to the Swan Valley. Located a 25-minute drive north east from the centre of Perth, the valley is Western Australia's oldest wine growing region and has beautiful wildflowers to boot.


Spotted in the area have been magnolias, rhododendrons, camellias and tulips as well as a host of native blooms. For further information, contact the Swan Valley Visitor Centre on 9379 9400.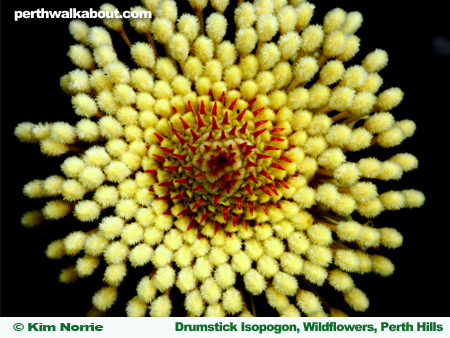 From the Swan Valley, head to the hills. The Darling Range to the east of Perth encompasses five national parks and is a prime place to see wildflowers. Best places for viewing include the John Forrest National Park, Lake Leschenaultia, Mundaring Weir, Kalamunda National Park and Lesmurdie Falls National Park. Contact the Mundaring Visitor Centre for further details on 9295 0202.


If you have your own favourite place to view wildflowers in Western Australia, please add your comment below.