Details

Category: Historical Places
Published: Wednesday, 10 December 2008 09:33
Written by Nita Teoh
The Old Mill
Kwinana Freeway
South Perth
Phone: 9367 5788
Opening hours: 10am to 4pm
Closed: Christmas Day, New Year's Day
Entry fee: by donation
Note: There is a notice advising visitors that opening hours are subject to change.
If you are taking a day trip to South Perth, The Old Mill is worthwhile visiting for its historical interest. The easiest and most pleasant way to get to The Old Mill is to catch a ferry from Barrack Street Jetty in Perth to Mend Street Jetty in South Perth. From Mend Street Jetty, it should take a 10 to 15 minute leisurely walk to reach The Old Mill. The Old Mill and the adjoining Miller's cottage are located in a quiet spot between the Kwinana Freeway and the Swan River.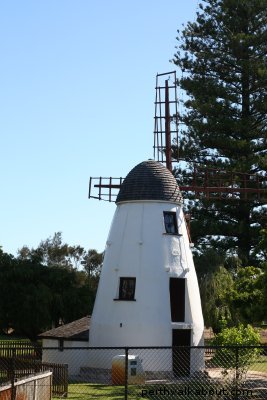 The Old Mill, South Perth
The Old Mill, also known as Shenton's Mill has had a chequered past as various events have threatened its existence. The Old Mill as it stands today was constructed in 1835 for William Shenton by millwright Lockyer & Son. It existed in a previous form in 1833 however was rebuilt due to being ransacked.
During the 1830's to 1850's, The Old Mill was the hub for the transportation of wheat and flour and was the colony's first wind powered mill. Easy access to the Mill on the promontory of Point Belches was by a narrow neck connecting Miller's Pool with the Swan River.
In favourable windy conditions, it produced 25 bushels, or equivalent to 680 kilograms per day. However, even with these advantages, it became unprofitable compared to other forms of milling and was closed down.
In the 1870's, the property was leased by ex convict architect engineer "Satan" Brown and transformed into the Alta Gardens Hotel complete with verandahs, a rooftop lookout and dance hall. However, this business venture failed and the building fell into disrepair.
In the 1950's The Old Mill was again threatened when one option for construction of the Narrows Bridge would have resulted in the demolition of The Old Mill. Public pressure forced the proposed route for the Narrows Bridge to be diverted to save the Old Mill. This was the beginning of its existence as a folk museum.
Since 1992 the property has been vested with the National Trust of Australia with volunteer guides on hand to show the public through The Old Mill.
How to get there:
By ferry
The easiest way to get to The Old Mill is to catch the ferry from the Barrack Street jetty in Perth to Mend Street jetty in South Perth. Once you reach South Perth, disembark the ferry and walk along the South Perth Esplanade, continue under the Narrows Bridge, and after walking a short distance you should be able to spot the Old Mill.
Other Perth Walkabout articles
Go to