Details

Category: Local Area Guide
Last Updated: Wednesday, 08 June 2011 15:35
Published: Sunday, 03 April 2011 12:05
Written by Vicki Sly
The City of Bayswater, also known as the Garden City, is a blooming colourful Perth suburb located about 8 km north-east of the city centre.

It is one of Perth's oldest suburbs with an interesting history stretching back over one hundred years. It has seen many changes in that time but even in the past 15 years young families and couples have moved into the area to take on renovator's delights and set it buzzing.

I love Bayswater but am biased as my old worker's cottage made of wood and complete with crooked walls sits on a hill in the middle of this picturesque suburb that has 10 km of the Swan River winding through it.

When we moved there it wasn't super trendy but it has seen a boom. Today it is still one of Perth's best-kept secrets only minutes from the city centre.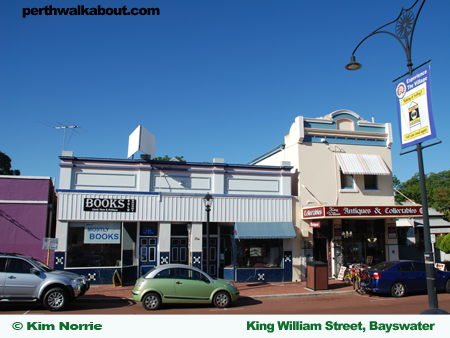 Bayswater's high street is King William Street which cuts across the suburb from Railway Parade through to Guildford Road. It is an eclectic mix of businesses but for the browser there are a few interesting options worth checking out.

On the corner at 2 King William Street is Cycles Bespoke. This is a shop for the serious cyclist and bicycles found in here are a work of art and at the forefront of technology. It is open on Saturday and late most weeknights to accommodate workers.

Wander further down the strip to That Food Company which has been serving great coffee and gourmet food since the late 1990s. It has two alfresco areas and is a recommended hot spot for a Sunday breakfast where you can watch the world go by.

If you into all things vintage, the run of shops next to the café includes a clothing store, an antique and collectables shop and Mostly Books, a fine collection of second-hand books where you are bound to discover a gem or two.

Bayswater village also has a fresh fruit and vegetable store in the old green grocer style, a bakery, small supermarket, chemist, newsagent and liquor store.

For the historians, there are a number of heritage-listed buildings and structures in the area that are rich in stories to tell: the old Bayswater Hotel, Garret Road Bridge, Halliday House and Tranby House in nearby Maylands (City of Bayswater.)

If you walk further down King William Street you will come to Halliday House Heritage Centre at 114. It is open on the fourth Sunday of every month between 1.00pm and 4.00pm and is the best place to go for comprehensive history on the suburb and surrounding area.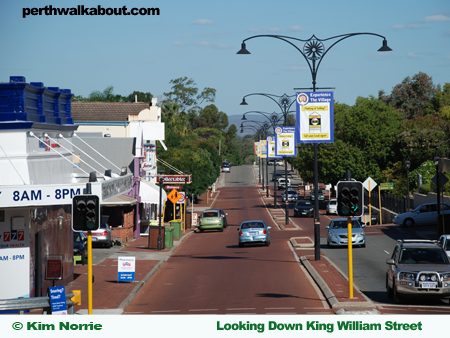 If you are more attracted to all things natural, the Swan River is just at the end of King William Street and apart from the picturesque foreshore and parkland there is a wetland that houses the Eric Singleton Bird Sanctuary. Twitchers can hide away in a small lookout with the guarantee of seeing a wide range of birds that I could never quite distinguish to impress my children.

Bayswater Riverside Gardens is great for cycling, walking, throwing in a fishing line or if you are early enough, watching the rowers train on the Swan or seeing the horses being put through their paces at Ascot Racecourse on the other side of the river.

If travelling to Bayswater by public transport, catch the train from the centre of Perth to the Bayswater train station. From the Bayswater train station, head towards the parking area on the river side and you will find yourself looking down King William Street.

Do you have something to share about Bayswater or you local suburb?

Other Perthwalkabout Articles

Bayswater Waves -
Cool Down, Warm Up or Work Out at Perth's Aquatic Centres

Mount Hawthorn is Sitting Pretty on the Fringe of the City

Step Back in Time and explore Historic Guildford on the Swan