Details

Category: Local Area Guide
Created: Wednesday, 10 December 2008 09:51
Published: Wednesday, 10 December 2008 09:51
Written by Nita Teoh
The suburb of Inglewood with its character houses and old suburb charm along "The Avenues" has always been popular with a wide cross section of the population including families, the elderly and the young. "The Avenues" are lined with leafy Jacaranda trees with their trademark purple blossoms during springtime.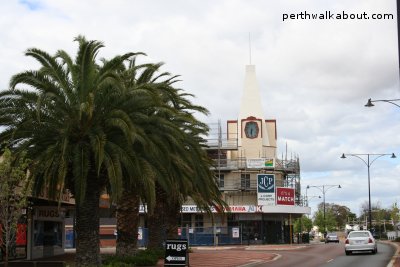 Inglewood Clock Tower
Inglewood is bounded by the adjoining suburbs of Mount Lawley, Menora, Bedford, Dianella, Yokine and Maylands. In recent years, higher density living including multi use residential and commercial developments has been on the rise.
Apartment living "inner city" style along Beaufort Street has become par of the course for some residents in Inglewood. Beaufort Street underwent major realignment to iron out the "kink" near the historical Inglewood Clock Tower. The redevelopment of the landmark Clock Tower on the corner of Beaufort Street and Dundas Street has also been much awaited for.
Residents no longer have to make the track to the Mount Lawley cafe strip for dining out as Inglewood can now boast its own thriving cafe strip. The cafe strip was established around 2005 and has a good range of trendy cafes and restaurants to choose from.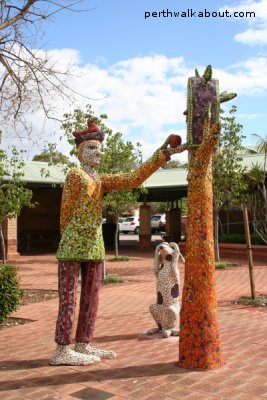 Here Birdy Birdy, Claire Bailey
Inglewood Civic Centre
Well frequented restaurants include Mia's Cafe, Avenue Nine, Jessie's Curry Kitchen and Cafe, Al Sito (previously Tony's Pasta) and The Jolly Good Indian. Newcomers to the strip include the Rembrandt Restaurant (Polish cuisine) which relocated from Maylands and Delhi Palace (previously The Banyan Tree Indian Restaurant).
Shopping facilities are excellent with a local IGA supermarket, Brumby's, and a chemist all within close proximity. There are also some interesting specialty shops such as the well known and expanded Mondo Butchers ("Mondos"), Mount Lawley Wholefoods and Ali Baba's Whole Foods. During the summer time, "Mondos" runs its Saturday morning markets which are popular with locals.
Transport services also provide easy access to the train network from the Maylands train stop and to the bus service from Beaufort Street.
Favourites at Inglewood
Perth Walkabout will be featuring favourites in Inglewood in coming weeks.
Jacarandas in Full Bloom
Check out Restaurant Reviews for:
How to get there
From the city, catch the train to the Maylands Train Station along the Midland line. When you get off the train, walk down Eighth Avenue and head west towards Beaufort Street. The main section of the cafe strip is along Beaufort Street bounded by The Avenues from Sixth to Eleventh Avenue and Dundas Road.
Coming Up
Mondos Butchers ("Mondos")
Ali Baba's Whole Foods
Restaurant Reviews for:
The Jolly Good Indian
Go to
Things to Do