Details

Category: Local Area Guide
Published: Monday, 15 December 2008 16:10
Written by Nita Teoh
Jacarandas in Full Bloom
Many of the older suburbs in Perth have their streets lined with lovely Jacaranda trees. Their trademark purple blossoms are a feast to the eye each spring as they herald the beginning of a season and continue on into summer with scorching century heat temperatures. As the end of the season nears, the Jacarandas create a lovely carpet of purple blossoms on the ground.
The Jacarandas are found across Australia, and have a high prominence in Brisbane. Brisbane was home to the first Jacaranda tree in Australia when it was collected in 1864 and planted in the City Botanic Gardens in Brisbane by Walter Hill.
Sometimes people are mistakenly led to believe that these trees are native to Australia. However, they are actually native to Brazil and Argentina. They are also commonly found in many other parts of the world including the "Jacaranda City" of Pretoria in South Africa.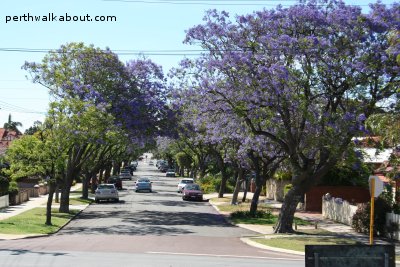 Jacaranda trees, Inglewood
"The Avenues" in Inglewood are one of the suburbs lined with the lovely Jacaranda trees with their trademark purple blossoms during springtime. Featured on Perth Walkabout are photos of some lovely Jacaranda trees taken in Inglewood in early December.
In the north eastern suburbs, Jacarandas can be found in Mount Lawley, Inglewood and Bedford.
During springtime, the suburbs of Subiaco, Nedlands and Peppermint Grove north of the river and the suburbs of Applecross and Mount Pleasant south of the river, are awash with Jacarandas.
So adored is the Jacaranda, that the annual Jacaranda Festival is held in Applecross in November of each year. It is a fun day of festivities amongst the lovely setting of Jacarandas in Applecross Village.
In Subiaco, a walking tour suggested by the City of Subiaco refers to the naming of one of its streets "Old Jacaranda" Way to recognise mature Jacaranda trees which were transplanted from suburban gardens to line this street.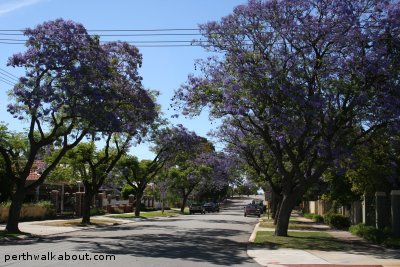 Jacaranda trees, Inglewood
Favourites at Inglewood
Perth Walkabout will be featuring favourite spots in Inglewood in coming weeks.

Coming Up
More Favourites at Inglewood
including
Mondos Summer Markets
Go to