Details

Category: Local Area Guide
Last Updated: Friday, 20 May 2011 13:29
Published: Friday, 20 May 2011 04:07
Written by Lee-Ann Khoh
Leeming is a predominantly "white collar" suburb located about 17km south of the Perth central business district. This is about a 20-30 minute drive down the Kwinana Freeway (exit at Farrington Road, or alternatively South Street or Roe Highway). Leeming is also accessible by public transport, and is conveniently positioned next to Murdoch Station.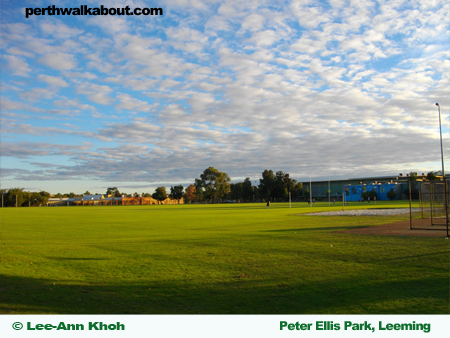 Close enough to the city but far enough to enjoy the peace of suburbia, Leeming is generally a family friendly place to be, with lots of parks and open spaces as well as shops and services, most of which are located along or near the main street of Farrington Road.
The Leeming Shopping Forum (formerly Farrington Fayre) contains all your neighbourhood essentials, including IGA supermarket, newsagency, pharmacy, deli and Brumby's bakery. Outside you'll find a variety of services – such as hair, beauty and drycleaning – and more food outlets.

From Chicken Treat (an Australian fast food franchise) and fish 'n' chips to pizza to sushi and bento boxes, you'll find something that satisfies your hunger in this small but attractive market complex, whether you want a quick takeaway solution or a nice restaurant meal.

Chin's Noodle House, which specialises in Malaysian Chinese cuisine, is the most prominent restaurant but it is worth noting the neighbouring Emperor's Kitchen, which has carved out a niche in dim sum/yum cha and, more recently, bubble tea.
On the opposite side of Farrington Road, many of the properties have been converted into specialised health-related clinics such as dentists and chiropractors.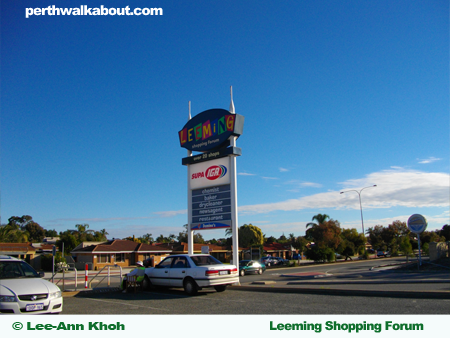 Meanwhile, similar offerings to the Leeming Forum can be found at the Leeming Park Shopping Centre, which services the other side of the suburb, near Melville Glades Golf Club.
Leeming Recreation and Indoor Sports Centre, affectionately known as The Rec, runs several fitness classes and sports competitions during the year. Its facilities include a gym, multi-purpose indoor and outdoor courts, and cricket nets. The Rec also provides a venue for a variety of other programs, including physical education and performing arts classes for the local school, and can be booked for functions and events.
Adjacent to the Leeming Shopping Forum, The Rec and Leeming Senior High School lies Peter Ellis Park. It is equipped with Australian rules football and Rugby goal posts, as well as cricket nets. Peter Ellis Park is popular with students, athletes for matches and training, and the general public for exercise and recreation.

It is just one of several parks and ovals in the Leeming area; others include Beasley Park, home of the Bullcreek-Leeming Amateur Football Club, and Montague Hillary Park, which is directly opposite Leeming Primary School and includes a playground to entertain the kids.
Leeming is named after surveyor George Waters Leeming, who surveyed the area back in 1886. It was an agricultural district and part of the neighbouring suburb of Jandakot until the 1970s.
How to get there:
From Perth Train Station, take the Mandurah Line down to Murdoch Station. There are two buses you can catch into Leeming: the 515 (Murdoch to Jandakot) and 516 (Murdoch to Willetton).

Other Perth Walkabout articles

South Perth - A Shining Star that Beckons with Old Favorites
Mount Hawthorn is Sitting Pretty on the Fringe of the City

Guildford - Step Back in Time and Explore Historice Guildford on the Swan River