Details

Category: Local Area Guide
Last Updated: Wednesday, 18 May 2011 08:11
Published: Wednesday, 13 April 2011 12:38
Written by Vicki Sly
Mount Hawthorn is a cosmopolitan inner-city suburb of Perth located only a few kilometres from the city centre.

Situated in the Town of Vincent, it is in good company and shares the council region with the equally groovy suburbs of Leederville, Highgate, Mount Lawley, North Perth and parts of Perth, East Perth and West Perth.

Mount Hawthorn was first developed in the late 1800s and although it is sometimes overshadowed by its sister suburbs Leederville and Mount Lawley, it still has enough attractions to offer visitors to the area. It has grown to become one of Perth's trendiest places to live and is recognised for the heritage homes and character buildings that are scattered throughout the suburb.

Scarborough Beach Road cuts through the middle of Mount Hawthorn and is a popular strip that offers cafes, restaurants, pubs, fashion and gift boutiques, as well as The Mezz, a large modern shopping centre.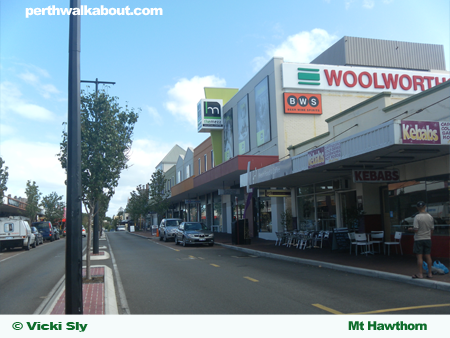 The Mezz is located at 148 Scarborough Beach Road and is open all week (only cafes and restaurants on Sunday). It offers food and fashion, gifts and gourmet goods, and banks, bakeries and the Bra Bar. What more could you need?

One of the most iconic buildings in Mount Hawthorn is the Paddington Ale House which is located at 141 Scarborough Beach Road.

The "Paddo" has always had a big reputation as a great pub to visit and it must be doing something right as it can boast being the winner of 10 Australian Hotel's Association Awards for Excellence including a Hall of Fame entry for "Best Live Entertainment Venue" and "Best Bar Presentation and Service Award".

For those that like to try something different, they advertise 141 ales and lagers from around the world so you may need more that just one visit!  And if you make it through the full list, you name joins the honour board.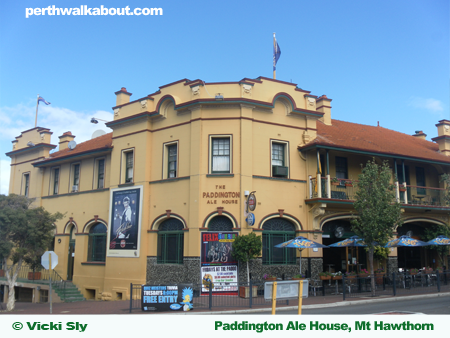 If you prefer coffee to beer then there are no less than six cafes to choose from in the centre of Mount Hawthorn.  If you are anything like me and can't think of anything better than the combination of books and coffee then take a visit to The Bohdi Tree at 416-418 Oxford Street. It is one of my husband's favourite bookshops and with a motto of "Inspiring Wisdom" there are some great treasures to be found.  I encourage him to visit around birthdays and Christmas.

At 163 Scarborough Beach Road you will find the New Norcia Bakeries which is worth a visit even if you only have time to take away one of their delicious breads. The recipes are from the monks of New Norcia – Australia's only monastic town located about 130 km north of Perth. The sourdough always gets a thumbs up.

In terms of restaurants, Mouth Hawthorn has its fair share of international cuisine on offer – a wonderful reflection of the multi-cultural Australia that we live in today.

At 401 Oxford Street is Ha-Lu, a modern eatery specialising in Japanese food that also has take-away available. If Italian is more your style, then at 170 Scarborough Beach Road is Divido which is renown for its wood-roasted corn-fed duck. Customers here are encouraged to be adventurous in their choice of food and laugh loudly throughout the night.

For something hearty, why not try Gianni's at 267 Scarborough Beach Road? Homemade Balkan and Croatian food is not something you eat every night but worth considering next time you are looking for a cultural experience. If Thai is what you crave then the Royal Thai Restaurant at 370 Oxford Street may be what you are looking for.

No talk of Mount Hawthorn would be complete without mentioning the nationally unique and famous ANZAC Cottage at 38 Kalgoorlie Street. Thousands of people watched it being built by hundreds of locals in just 24 hours.

It was Australia's first World War I memorial – albeit not a statue or plaque - but something more practical for the first wounded ANZAC soldier to return to Mount Hawthorn from the Gallipoli campaign.

Do you have any favourite places in Mount Hawthorn?
Add your comments below.