Details

Category: Local Area Guide
Last Updated: Wednesday, 11 May 2011 10:17
Published: Thursday, 28 April 2011 01:48
Written by Lee-Ann Khoh
Historical, yet youthful. South Perth is an affluent riverside suburb in Perth with significant ties to the city's past while being simultaneously blessed with modern attractions. On the northern edge of South Perth lies Perth Water, a section of the Swan River between the Narrows Bridge and the Causeway traffic crossings.

South Perth's beautiful green parks, foreshore location and accessible pathways make it a popular spot for exercise and recreation. Crowds also gather along the South Perth foreshore to view the fireworks on Australia Day each year.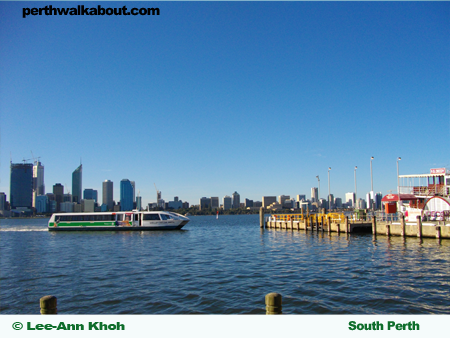 Just 3km from Perth's central business district, South Perth is well serviced by public transport, with Transperth running buses and a ferry from Perth. Once you're in South Perth, its main drawcards are within walking distance, and there are signs to help you find your way.

As you walk, run or cycle along South Perth Esplanade and through Sir James Mitchell Park, be sure to take in the stunning backdrop of the Swan River with the Perth skyline in the distance. If you want to get out on the water, there is a designated area of the river near the Narrows Bridge for motorised water sports such as waterskiing and jet skiing.

You can also hire a catamaran from Funcats, located at the Coode Street Jetty, and go sailing. Back on the shore, you can enjoy a barbeque or picnic on the pristine grass and admire the river and manmade lakes. There are playgrounds to keep the kids occupied too.

If you head up along Mends Street, you'll get a glimpse of South Perth's trendy cosmopolitan side with the bustling café strip. Cafés and restaurants, including the popular Mends Street Café and Atomic Café, and various international cuisines, line the area.

Why not drop in for a tasty meal or snack? This is South Perth's main café strip and it lies within easy reach of the foreshore (Just up the road from where the ferry docks!) and on the way to Perth Zoo.

Perth Zoo opened in 1898 and not been closed for a single day since. Today it is one of Perth's greatest tourist attractions, providing a fun day out for locals and visitors alike. Perth Zoo has also developed a strong reputation for its conservation efforts, dedicated to the ongoing protection of native and exotic animals and plants.

The three main sections of Perth Zoo are the Australian Walkabout, African Savannah, and Asian Rainforest, but its exhibits cover a diverse range of species from all around the world, with each exhibit designed to replicate the animal's natural habitat as much as possible. You can easily spend a full day at Perth Zoo and it is an enjoyable and educational experience for young and old.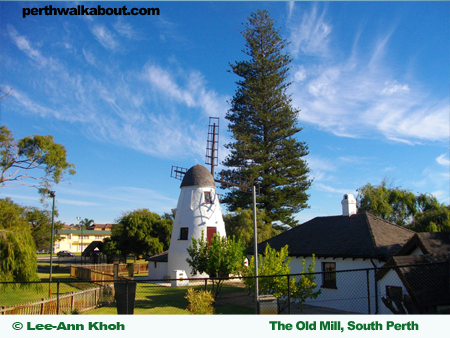 The South Perth area was predominantly used for farming after the establishment of the Swan River Colony, and one of the remnants of this is the Old Mill at Point Belches (now commonly referred to as Mill Point) on the South Perth Esplanade.

Also known as Shenton's Mill, it was designed by engineer William Kernot Shenton and built by Paul Lockyer, operating from 1835 to 1859. The heritage listed Old Mill was restored in 1994 and now serves as a folk museum, preserving a key aspect of our colonial history.

Situated on the corner of Mends Street and Mill Point Road is the Old Mill Theatre, a small community theatre operating in what used to be the Mechanics Institute Hall back in the 19th century.

The building was bought by the South Perth council in 1913 and was transformed into a theatre years later, celebrating its 60th anniversary in 2009. The actors, directors and crew are all volunteers, putting on productions for the love of the craft.

How to get to South Perth

The easiest way to get to South Perth is to catch a ferry from Barrack Street Jetty in Perth to Mends Street Jetty. Alternatively, you can catch the 34 bus route (Perth to Cannington) from Esplanade Busport or Wellington Street Bus Station.