Details

Category: Local Area Guide
Last Updated: Wednesday, 29 June 2011 09:45
Published: Monday, 20 June 2011 02:23
Written by Lee-Ann Khoh

Willetton, sometimes affectionately known to locals as Willo, is a Perth suburb about 16km south of the central business district. Named after early settler Henry Willett, who was assigned land in a nearby area in 1832, Willetton's present boundaries were established in the mid-1960s and opened to residents in the 70s. Today it is a predominantly middle class, white collar area with a mixed ethnic population and good facilities for families.

Many of these facilities are located along Burrendah Boulevarde, including the two-storey Southlands Boulevarde Shopping Centre. The ground level covers all your retail essentials. For you and your family's basic day-to-day needs, there's Gilbert's Fresh Market for fruits and vegetables and major supermarkets Coles and Woolworth's.

Seoul Mart specialises in Korean groceries, while The Reject Shop and Thingz sell a variety of discount goods and gift items. And there are plenty of specialty stores too, including a bookstore, computer shop, video rental, fashion boutiques, and hair and nail salons.

If you head upstairs to the first floor, you'll find some nice entertainment and dining options. You can catch a movie at Hoyts Cinemas, play some arcade games, or test your laser tag skills at Dark Zone Laser Sport. When you've worked up an appetite, enjoy a meal, snack, or a coffee at the Gallery Food Court. The first floor at Southlands can also be directly accessed from outside via the upper level parking lot.

Outside the Southlands complex, you can also grab a bite to eat or a drink at The Burrendah tavern or one of several fast food outlets.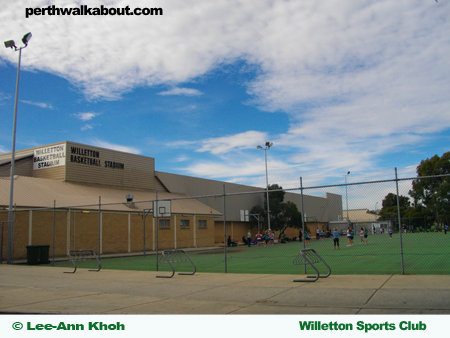 In the afternoon, the Burrendah Boulevarde area becomes a popular hangout for local school students.
Right across the road from Southlands is the Willetton Sports Club, which serves as the base for the Willetton Tigers state basketball team and Willetton Blues amateur football club. But the Sports Club also runs both competitive and social programs for cricket, soccer, basketball, Australian Rules football, tennis, netball, bowls, and Little Athletics. School teams play games there, too. And with its bars, function rooms and meeting rooms, it is also hired and used a venue for various community events, including those of the local rotary club.

Next to the basketball stadium is the Burrendah Skate Park (also known as Willetton SK8 Park), which has been brightly decorated with street art. It is often quiet there during the day but once school's out, you'll usually see kids on skateboards, rollerblades, scooters and bikes.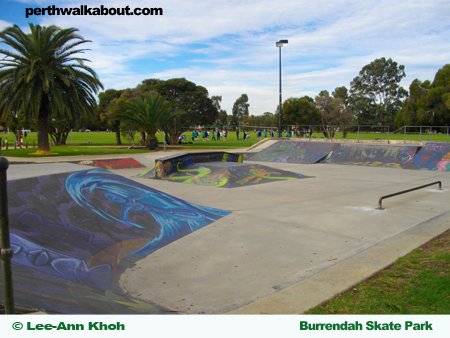 For arguably the best tasting hawker food in Perth and one of the hidden treasures south of the river, head to Collins Street. Piazza on Collins is dominated by restaurants serving delicious Asian cuisine, including the ever-reliable Taurus, which is always generous with its servings and cooks its tasty, well presented dishes to perfection.

Others Collins Road restaurants include Singapore Hawkers, Bamboo, Joy's Garden Café, Yuki's Japanese Restaurant and Foo Wah Chinese Restaurant – just take your pick. It's worth revisiting Piazza on Collins to sample as much of it as you can. Some of the tantalising foods on offer on Collins Road include chicken rice, char siew (barbecued pork) rice, laksa (spicy noodle soup) and cendol (a sweet dessert made with coconut milk, palm sugar, green jelly and shaved ice). Also at Piazza on Collins is Korean/Asian supermarket HiMart, where you can pick up a variety of imported foods, ingredients and snacks.
Like many suburbs in the area, Willetton also has a number of parks and ovals to enjoy. Agincourt Park, which is next to the library and Southlands, has a small playground with lots of open grassed areas. Willetton Park and Prendwick Reserve are ideal for sports matches. It is common to find friends in the park enjoying a recreational cricket match in summer or a kick-to-kick of the football in winter.
How to get there:

From Perth Underground Station, get on the Mandurah Line. You can get off at Bull Creek Station and take the 507 (Bull Creek to Cannington) bus route into Willetton. Or stay on the train a little longer, getting off at Murdoch Station and taking the 99 CircleRoute.

Other Perth Walkabout Articles

Leeming - Suburbia That Strikes a Cord with Families in Perth

South Perth - A Shining Star That Beckons With Old Favourites

Perth Local Area Guides